Hate online shopping? 5 genius hacks to save money and get clothes that fit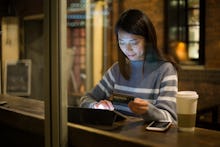 Hate online shopping? That's too bad — it's the future. In fact, one big takeaway of Friday morning's United States jobs report was that brick-and-mortar stores will only keep disappearing: The retail industry had its worst two months in a row of job losses since 2009, and more stores look set to close in 2017 than in the throes of the 2008 recession.
"They're struggling with overcapacity in the industry and the consumer's shift to online purchases," said Bankrate senior economic analyst Mark Hamrick in an email interview. Essentially, the country has too many physical shops, as growth in online shopping is outpacing in-store purchases.
Bebe, Kenneth Cole and Rue21 are the latest casualties with store closures, Bloomberg reported, as those brands join other biggies like Sears. Urban Outfitters CEO Richard Hayne told reporters, "Malls added way too many stores in recent years... [selling] the same thing: apparel."
This is all tough news for people who actually like buying stuff in person. 
After all, you get to touch items — and try them on; you can even test them out in the case of furniture or tech. Sure, there's more effort involved: You have to put on pants and leave the house. But there's less room for error, and less money wasted on stuff you end up hating but are too lazy to return.
Feel that aversion to online shopping? It's time to evolve with the times. Here are five smart hacks that will ensure you never overpay — and always end up with a purchase you're thrilled with, even if it was bought from afar.
1. Record your measurements 
One big drawback of shopping online for clothes versus in person is you can't try on that shirt before you buy it. All brands size things differently, so it's hard to know how something will really look by viewing some pictures.
That's how you end up with a depressing section of your closet full of clothes that don't fit — which you've never gotten around to returning.
The best way to painlessly change your shopping habits so you can avoid this issue is to get a professional to take your measurements: That takes only a few minutes for a tailor, and sometimes they won't even charge you, and many clothing stores will also take your measurements for free. 
If finding a place to get measurements taken is too difficult, you could also take them yourself — although you may want to enlist a friend to help you with the hard-to-reach spots like the inseam and the bust.
Keep your posture natural, and if you're on the fence about a certain size, err on the side of the larger one so that you can have it taken in. Another beauty of learning your measurements for real? You might discover you've been buying the wrong sizes all along.
2. Use free two-way shipping and order multiple sizes
It's important to read the fine print on return policies, since some are a lot more generous than others. Big online retailers like Zappos and Net-a-Porter have free shipping both ways, so you can return items at no cost.
That way there's also little harm in buying something in two or even three sizes, trying them on at home, and then shipping back the ones that don't fit. 
If it's easier, other places like Nordstrom and Bed Bath and Beyond will let you return most items that you've bought online to a brick-and-mortar location — while they're still out there, that is!
It always helps if you can bring a receipt, though that's not always necessary. 
3. Leave items in your digital shopping cart 
One of the sneakiest tricks you can try is goading a retailer by leaving an item in your shopping cart without finishing the transaction. Usually, they'll send you a few reminders that the item is there, waiting for you.
In many cases, they'll add in a deal sweetener, if you can bide your time: "Patience is a virtue," fashion and beauty writer Sara Spruch-Feiner said.
4. Never buy until you find the code  
Ready to hit "purchase"? Not so fast. The main advantage of buying online, Spruch-Feiner said, is that you should never have to pay full price. Since sites are usually offering different promotions to different profiles of buyers, you can almost always find a discount code if you're persistent. 
"I never buy something online without a code, because there is always a code," Spruch-Feiner said, pointing to apps that help you aggregate offers.
"Google Chrome extensions like Honey and E-Bates are musts," she said. "But if Honey doesn't have a code, I still don't quit. Only quitters quit, so next I go to RetailMeNot and put in the company and see what codes are out there." 
E-Bates works a little differently, but is still worth it, Spruch-Feiner said: Instead of applying discounts before you buy something, it generates cash back on things you've already bought. 
"I don't really buy that many high-end items, but I get like a $25 check every few months," she said. Similarly, apps like Slice will keep an eye on products after you buy them in case the price drops, and then negotiate you a rebate. 
5. Create a dummy email for all the spam  
A final hack to handle all the correspondence, since brands typically do email lots of special deals to loyal customers and social media followers, is to set up an email address just for those messages.
"They like to create this members-only feeling," Spruch-Feiner said. To keep intrusive brands from taking over your inbox, she advised setting up a separate account just for online shopping. Following every store or brand you like will create an exhausting daily inbox purge, but if everything is being directed to a special account, you can log in to check for discounts only when necessary.
Also: Rather than turning your social media profiles into a series of branded pronouncements, Cosmopolitan advises checking on social media accounts without actually liking the pages. Or, since you may be required to "like" in order to gain access to a certain promotion, remember you can always unlike the page as soon as you've gotten access to the deal in question.
Sign up for The Payoff — your weekly crash course on how to live your best financial life. Additionally, for all your burning money questions, check out Mic's credit, savings, career, investing and health care hubs for more information — that pays off.