Syria missile attack: These are the reactions from foreign press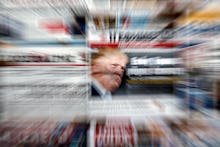 Since Thursday night, the world has been gripped by President Donald Trump's decision to launch a missile attack on Syria. The bombings were justified, Trump said, by Syrian President Bashar al-Assad's alleged use of chemical weapons on Tuesday, which killed scores of citizens.
Trump's retaliation has been met with mixed — and emphatic — responses from politicians and press alike. International coverage of the event offers an insight into the global perception of Trump's aggression. 
Here are front pages and some of the main coverage from news outlets across continents. 
Middle East
Saudi Arabia: Arab News
Saudi news outlet Arab News reported the strikes, for the most part, received global support, singling out Russia as the exception. Putin and the Kremlin captured headlines by loudly condemning the attack Friday morning.
But Arab News' main Twitter account posted an op-ed which argues international meddling by Iran is responsible for the Syrian civil war. 
It also included a story about Syrians who've changed their online profile pictures to Trump's face as a sign of support for the U.S. attack.
Syria: Syrian Arab News Agency
SANA's coverage was comparatively sparse. It tweeted a statement declaring the Syrian military has never and will never deploy chemical weapons. 
South Asia
Pakistan: Dawn
Dawn, one of Pakistan's biggest news outlets, focused primarily on global leaders' reactions, with stories on how Russia, Turkey, Saudi Arabia and Iran have responded thus far.
India: The Hindu
Next door to Pakistan, some of the outlets in India took a similar angle. The Hindu's home page featured a story on the attack, focusing on Putin's anger over the strikes.
But later in the morning, the site featured a story on the United Nations Security Council meeting to discuss the act of aggression. 
Europe
France: Le Monde
Le Monde tweeted an article with comments reportedly from French President Francois Hollande and German Chancellor Angela Merkel, who blamed Assad for the attack.
"Assad is solely responsible for U.S. strikes, according to Paris and Berlin," the tweet says in French, quoting a joint statement from Hollande and Merkel.
U.K.: The Guardian
The broadsheet's front page for its newspaper edition Friday overwhelmingly focused on the chemical attacks in Syria Tuesday, which prompted Trump's missile strikes. The front page did not include any stories on Trump's retaliation — but it is worth noting that it went to print before Trump's decision.
However, the Guardian's Twitter account offered extensive coverage of Trump's attack. The headline of one of the outlet's first articles is not without insinuation: "Trump's dinner of steak and carrots, then the cruise missiles struck Syria," implying Trump trivializes international matters and responds impetuously.
This was followed by an op-ed arguing the attack was entirely futile.
In an effort to provide its readers with balanced reporting, the Guardian also posted an op-ed with an antithetical perspective, arguing the strikes were, in fact, a good thing. 
U.K.: The Telegraph
One of the first stories tweeted by Great Britain's more conservative outlet began by explaining Trump's emotional motivation for the strikes. The post quotes Trump as saying, "No child of god should ever suffer such horror," referring to the victims of the chemical attacks. 
But it also offered articles and statements arguing that Trump should follow this aggression with peaceful means, such as negotiation, rather than more military involvement. 
The Telegraph included reactions from the Syrian and Russian presidents, both of whom were ardently against the attack.
Germany: Der Spiegel 
Germany's renowned outlet started with straightforward news coverage of the incident. But it also followed the post with an op-ed warning Trump's approach to foreign policy is of grave concern.
The commentator, Roland Nelles, is quoted in the tweet: "Foreign policy seems like it's a game to Trump, but it is deadly serious — for all of us," he wrote in German.
East Asia
China: Xinhua
China's official government press agency did not appear to offer much support for the missile strikes. An assortment of stories tweeted by its main account feature Syria's response. As noted below, Syria condemned Trump's actions and argued it "has not, did not and will not" use chemical weapons. It also featured a story on the death toll from Trump's strikes, which was not widely reported initially.
Xinhua's coverage included Trump's declaration that the attack was of "vital interest" to the U.S.
Latin America
Argentina: Clarín
Much of Clarín's coverage focused on international responses. It posted articles on Russia and Israel's clashing reactions of condemnation and support. 
It also noted the U.S. sent Russia a warning of the strike before it happened. "Confirmed: United States told Russia it would attack the Syrian base," the tweet reads.
Chile: El Mercurio
The main headline on Mercurio's front page of the print copy — which was also sent out in a tweet verbatim — zeroed in on Trump's motivation for the strikes.
"U.S. launches missiles on Syria in retaliation for the attack with chemical weapons," the headline says.