'The Walking Dead' season 8 might bring Glenn back for a special occasion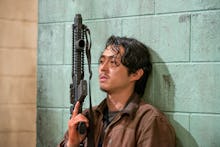 While The Walking Dead's season seven finale bid farewell to Sasha, it also brought back fan-favorite Abraham for a few flashback scenes between the former couple. It's becoming a bit of a trend on the series: Bring back dead characters for flashbacks, mostly for the purpose of warming our cold, zombie hearts (they did the same with Hershel after his death in season four). 
If there's another candidate for this kind of treatment, it's gotta be Glenn. Assuming nothing tragic happens to his wife Maggie on the show, she'll be giving birth to their on-screen son in the near future. That's the perfect cocktail for a nostalgic flashback; something Walking Dead showrunner Scott Gimple is already teasing in the show's future.  
Gimple told TVLine's Michael Ausiello that a Glenn return is "certainly possible" through some kind of flashback or dream sequence, adding that "I'd be silly to say it isn't." Though Gimple also stressed that Maggie's not close to giving birth yet — not much time has passed on the show between Glenn's death in the season seven premiere and the finale last week. 
In fact, if the show were to follow the comics, a time jump would occur once Negan and the Saviors are defeated, and it's after that time jump that Maggie's already given birth to their child. It's unclear if that's how the show will tackle this — they're not required to faithfully follow the comic books, after all.
While Glenn (and by extension, actor Steven Yeun) didn't appear in the season seven finale, the character was the focal point of a heartwarming speech by Maggie to cap off the season, when she talked about why the Hilltop Colony decided to join Rick and the rest of Alexandria in the fight against Negan. I'll admit, Maggie's speech — and the fact that she was holding Glenn's pocket watch, which was given to him by her father Hershel — was genuinely touching.  
"Glenn chose to be there for you that day, a long time ago," she told Rick. "That was the decision that changed everything. It started with both of you, and it just grew. All of us. To sacrifice for each other. To suffer and stand. To grieve. To give, to love, to live. To fight for each other. Glenn made the decision, Rick. I was just following his lead."  
The Walking Dead returns for its eighth season in October on AMC. 
Mic has ongoing coverage of The Walking Dead. Follow our Walking Dead hub here.