US Attack Video: Pentagon releases footage of the missile attack on Syrian airfield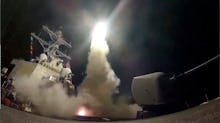 The Pentagon released video footage of the United States launching at least 59 Tomahawk missiles at a Syrian government airbase on Thursday night in a retaliatory strike for the deadly chemical attack that killed scores of civilians.
In a statement given from Mar-a-Lago in Palm Beach, Florida, where he had ordered the strike, President Donald Trump said the strike was vital to the "national security of the United States to prevent and deter the spread and use of deadly chemical weapons."
The military action marked an abrupt shift on Syria for Trump, who had said just days earlier that America's goal in the region should be combating the Islamic State group rather than deposing the country's president, Bashar al-Assad.
After Assad's regime was pegged to the deadly chemical attack that killed more than 70 civilians, however, Trump seemingly had a change of heart.
"There can be no dispute that Syria used banned chemical weapons, violated its obligations under the Chemical Weapons Convention and ignored the urging of the U.N. Security Council," he said. "Years of previous attempts at changing Assad's behavior have all failed and failed very dramatically."
Correction: April 7, 2017