Syria Response to US Attack: Assad calls attack "reckless" and "irresponsible"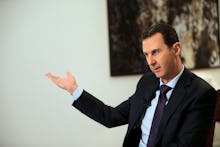 After the U.S. military attacked a Syrian airfield Thursday night, Syrian President Bashar Assad condemned the attack, calling it "reckless" and "irresponsible," according to the Associated Press.
Assad went on to say the strikes, ordered by President Donald Trump, were "shortsighted," and added that the attack was not based on "true facts." 
Trump ordered the attack on the Shayrat air base as punishment for Assad's chemical weapons attack, which killed at least 70, including children.
"Assad choked out the lives of helpless men, women and children," Trump said in a statement Thursday night after ordering the attack on the airfield that U.S. military officials say Assad launched the chemical weapons from.
A Syrian official said seven people were killed in the U.S. attack, including soldiers and civilians.
Iranian government officials are also condemning the attack, with Iranian member of Parliament Alaeddin Boroujerdi  saying, "Russia and Iran won't be quiet against such acts which violate interests of the region," according to the AP.