Maryland just made it law to fund Planned Parenthood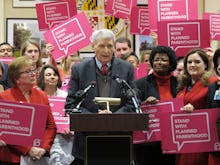 On Thursday, Maryland became the first state to formalize its commitment to funding Planned Parenthood, with a law that says the state will use its own spending to reimburse clinics if the federal government slashes their funding.
According to the Washington Post, Gov. Larry Hogan allowed the bill to pass into law without his signature, along with 14 other measures.
"Today, Maryland makes history ... unfortunately without the support of the governor," Sen. Richard S. Madaleno Jr., the Planned Parenthood bill's sponsor, said Thursday. "While I wish our state didn't need to fight the attacks on comprehensive health care by Congress, we are proud to stand up and protect access in Maryland."
The Trump administration's latest threats to Planned Parenthood came on March 30, when Vice President Mike Pence cast the tie-breaking vote in favor of legislation allowing states to withhold Title X funds from abortion providers.
The federal funds finance services like cervical and breast cancer screenings, birth control, testing and treatment for STIs and well-woman exams — not abortion — but try telling the Republican legislators that.
Of course, March also saw the GOP's failed alternative to the Affordable Care Act, which included a measure that would block Planned Parenthood from receiving Medicaid reimbursements for a year. These reimbursements make up 75% of Planned Parenthood's federal funding, according to NPR.
Each step toward defunding Planned Parenthood is just one of several calculated moves toward shutting down the clinics and making it all but impossible for women to access abortion, even if Roe v. Wade is still on the books.
For that reason, Karen J. Nelson, Planned Parenthood of Maryland's president and CEO, stressed the importance of remembering that the fight to protect women's reproductive care isn't over.
"As Marylanders, we must remember that a state solution does not change the fact that politicians in Congress are trying to prohibit millions of people from accessing care at Planned Parenthood," Nelson said in a statement Thursday. "It's incumbent on all of us to keep up the fight for women."