'13 Reasons Why' author originally had Hannah surviving. That would have been a mistake.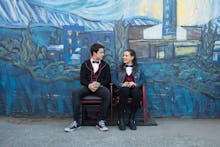 Netflix's new original series, 13 Reasons Why, debuted March 31 to considerable critical acclaim. The series, based on the novel of the same name by Jay Asher, has been praised for its exploration of teen suicide and the very real troubles that can be faced by students in high school. 
13 Reasons Why takes place in the aftermath of Hannah Baker's suicide. Before she ends her life, though, Hannah records 13 reasons why she came to her decision. The show and novel begin with Clay Jensen — reason 11 in the series — receiving the set of tapes. 
Both the series and its original source material could have been much different. According to Entertainment Weekly, Asher revealed in the book's 10th anniversary edition that he had originally intended for Hannah to survive her suicide attempt by overdosing on pills. 
"I liked the idea of, 'We've learned something from this. And yet, here's a second chance,'" Asher told Entertainment Weekly of his original ending. "Knowing as well that it was going to be difficult when Hannah went back to school to have to deal with those kids. It's not like everything's smooth now. In fact, it might be even tenser for her. But now there's Clay, who's going to be upfront that he's there for her."
If you've watched the series, seen a trailer or read the book, you know Asher decided it was more important for Hannah's decision to be permanent. "Out of seriousness for the issue, we realized we can't go there," Asher explained. 
No matter that there were missed opportunities for her. Those opportunities aren't there if you do this. Once I realized that the message of the story would be stronger and that it would definitely be more of a cautionary tale. I felt that was definitely the way to go. That's why Skye's character made a reappearance, which was cool to see her have a bigger role throughout the TV series.
In the end, Hannah doesn't survive her suicide attempt — in the book or the Netflix series. It's important Asher decided not to go with his original instincts. Teen suicide is a serious issue, one that shouldn't be portrayed as easily remediable. 
According to 2013 statistics from the Centers for Disease Control and Prevention, 17% of high-school students in grades nine through 12 "seriously considered attempting suicide in the previous 12 months." Furthermore, suicide is the third-leading cause of death among youths aged 10 to 14; for those between the ages of 15 and 34, it's the second-leading cause of death. In 2015 alone, 2,470 people aged 10 to 19 died by suicide.
Suicide remains an issue among all age groups. According to the American Foundation for Suicide Prevention, the United States' age-adjusted suicide rate per 100,000 individuals is steadily increasing, from 10.97 in 2006 to 13.26 in 2015.
If 13 Reasons Why had Hannah's suicide attempt end in a second chance, it could have been seen as minimizing a growing issue — even if it would have made for a happier ending. Suicide is permanent. The decision to end one's life affects everyone, and 13 Reasons Why illustrates there is no going back; often, there are no second chances. Asher's reasoning for ditching his initial ending is, ultimately, correct: 13 Reasons Why now serves as "more of a cautionary tale."
In the Netflix series in particular, Hannah's suicide is shown in graphic detail. Foregoing the pills from the novel, the TV show depicts Hannah slitting her wrists in a bathtub using razor blades from her parents' pharmacy. It is an extremely difficult scene to watch, even for those with the strongest of stomachs, and the aftermath is overwhelmingly heart-wrenching. But hopefully, a scene like this would actually dissuade someone from making such a drastic decision. And furthermore, the series certainly doesn't sugarcoat the affect suicide can have on those left behind.
While the book focuses primarily on Clay and Hannah, the Selena Gomez-produced series expands the narrative and explores the lives of the surrounding characters. And in doing so, 13 Reasons Why illustrates the tremendous pain felt in the aftermath of Hannah's suicide. Whether it be her grieving parents or the students and faculty at Liberty High, everyone is dealing with grief in their own ways. 
There is an opportunity for healing, and certainly a lesson to be learned. It's important that both the book and series end with Clay reaching out to another student who is beginning to show signs of suicidal tendencies. While Clay may have let Hannah down, it looks like he won't make that same mistake again. 
13 Reasons Why is now streaming on Netflix. 
Mic has ongoing coverage of 13 Reasons Why. Please follow our main 13 Reasons Why hub here.