Donald Trump gets disappointing jobs report as employers add just 98,000 jobs in March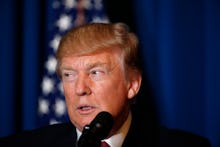 President Donald Trump said he'd be the "greatest president for jobs that God ever created."
But March's jobs report showed he has a ways to go before he can make good on that statement, with employers adding just 98,000 jobs, according to a report Friday from the Bureau of Labor Statistics.
The number, which falls far short of expectations, amounts to the weakest monthly jobs report since May, according to the BLS.
Despite the anemic job growth, the unemployment rate dropped to 4.5% — down from 4.7% in February.
Trump, for his part, claimed the jobs' report numbers were "phony" when President Barack Obama was in office, despite the fact that jobs steadily grew under Obama's tenure. In February, however, Trump celebrated the BLS' report — the first of his presidency — which showed a large spike in jobs.
Trump has yet to comment on the latest report.