Jared Kushner left meeting with Russian ambassador and bank chief off security forms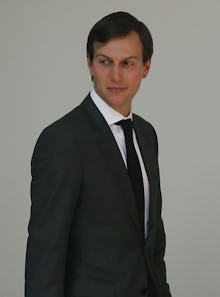 Jared Kushner — President Donald Trump's son-in-law and senior adviser — omitted meetings with Russian officials from his security clearance form, the New York Times reported.
Kushner — whose role in the administration has expanded in recent weeks — was supposed to disclose on the forms all encounters with foreign government officials in the last seven years, according to the Times.
But Kushner did not mention "dozens" of contacts with foreign leaders or a December meeting he had with Russian ambassador Sergey Kislyak. 
Both Attorney General Jeff Sessions and former National Security Adviser Michael Flynn had met with Kislyak in high-profile scandals; Flynn was forced to resign for after it became known that he had discussed lifting sanctions with the Russian ambassador. 
Kushner also failed to disclose a meeting — set up by Kislyak — with Russian spy school graduate Sergey N. Gorkov, the head of state-owned Russian bank Vnesheconombank, which has been a target of United States sanctions.
Kushner's lawyer described the omissions as an error and his aides say that he is compiling supplemental material to share with the F.B.I. He currently has interim security clearance and just returned from a trip to Iraq.
But the revelations about Kushner's security forms come as Trump's campaign is being investigated for possible ties to the Russian government. 
Kushner is expected to be questioned by the Senate Intelligence Committee as part of its investigation into Trump's potential Russia links.
Kushner denied discussing U.S. sanctions with Gorkov.
According to the Times, knowingly falsifying or concealing information on the security form is a federal felony carrying fines or up to five years imprisonment.