Vehicle rams into Stockholm department store, at least 2 dead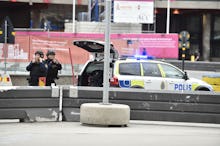 A truck reportedly rammed into the Ahlens department store on Drottninggatan, one of Stockholm's "major" streets, crashing into a store window just before 3 p.m. local time Friday, the BBC reported. At least two people were killed according to the Associated Press. Earlier media reports indicated that one person was arrested, but Swedish police later said no suspects had been arrested, the AP reported.
"Sweden has been attacked," Swedish Prime Minister Stefan Lofven said Friday, according to the AP. "This indicates that it is an act of terror."
The AP reported that footage airing on live television showed smoke coming from the department store where the truck reportedly crashed. Swedish media had reported a shooting scene, but police later said there was no indication that shots were fired, the AP reported. Ahlens is reportedly a chain of department stores with multiple locations.
The truck involved in the attack reportedly belongs to Swedish beer company Spendrups, the BBC reported. Spendrups said it had been carjacked earlier on Friday on the way to a restaurant delivery. The AP reported that the original driver of the vehicle was unharmed.
"There is total confusion ... Many people are totally shocked," Leif Arnmar, who witnessed the incident, told SVT, according to the BBC. 
Other world leaders in the region expressed support for Sweden following the apparent attack. The AP reported that Finnish President Sauli Niinisto called Friday's incident a "maniac act of terror" and said "every terror attack is to be equally condemned. But it touches us deeply when such an attack takes place in our Nordic neighborhood."
April 7, 2017, 11:50 a.m.: This story has been updated