'Call the Midwife' Season 6, Episode 2 Preview: Is Sister Ursula really that awful?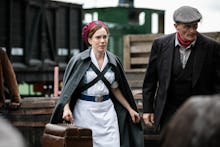 The British drama Call the Midwife returned to American TV screens Sunday, and with it came a tidal wave of changes to Nonnatus House — aka the convent the nurse-midwives call home.
In particular, the arrival of stern nun-in-charge Sister Ursula is wreaking significant havoc on the status quo. Jenny Agutter's maternal Sister Julienne has been relegated from supervisor to drudge and must sit in silence as her new superior enacts seriously austere measures toward the nurses' work and living habits.
The next episode, which airs Sunday, April 9, at 8 p.m. Eastern on PBS, will see all of Nonnatus House continuing to deal with Sister Ursula's unwelcome rules and regulations while still tending to the needs of their community in London's East End. Specifically, a pregnant woman with achondroplasia who, due to the medical limitations of the time (1962), expects her child will not survive delivery.
The second episode of the season will introduce Valerie Dyer, played by new cast member Jennifer Kirby. A Poplar native, Valerie is a former army nurse who will prove indispensable to Laura Main's Shelagh Turner when a fire breaks out near the docks.
Read on for PBS' official episode two synopsis:
The Nonnatus team prepares for the birth of a baby they know may not survive. Shelagh shows her mettle when she is first on the scene after an explosion in the docks. Sister Ursula continues to ruffle feathers with her unpopular decisions.
Check out PBS' video preview below:
Call the Midwife airs Sundays at 8 p.m Eastern on PBS.
Mic has ongoing TV coverage. Please follow our main TV hub here.