Bana al-Abed's Twitter account tweets approval of Trump's Syria missile strike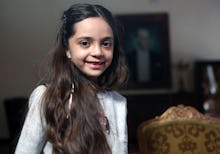 In the wake of President Donald Trump's missile strike on Syria, the Twitter account of Bana al-Abed has come out in support of the president's controversial military action.
Al-Abed, a young Syrian girl who used Twitter to share her experiences of the bombings in Aleppo, took to social media Friday morning to share her approval of Trump's missile strike.
"I welcome Donald Trump action against the killers of my people," al-Abed tweeted.
Al-Abed said she does not want the military intervention to escalate into "World War Three," however, sending a later tweet calling for the world to "stand together and end all wars."
The 7-year-old now lives in Turkey with her mother, after being evacuated from Aleppo in December. 
After Trump's inauguration in January, al-Abed penned an open letter to the president, asking Trump to promise he will help the Syrian people.
"I know you will be the president of America, so can you please save the children and people of Syria?" al-Abed wrote. "You must do something for the children of Syria because they are like your children and deserve peace like you."