This 'Game of Thrones' actress was working in a clothing store when she got cast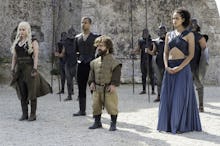 Ever wonder where you would be if you were not at your current job? Well, Game of Thrones' Nathalie Emmanuel knows what she could possibly be doing. The actress revealed on Jimmy Kimmel Live! that when she learned she was cast as Missandei on HBO's hit series, she was working in a retail clothing store. "I was working in a retail store — in a clothes shop," the actress explained. "Yeah, I was like, really out of work at the time. ... I was paying the bills."
And while working in retail may not have been as dangerous as working in proximity to fire-breathing dragons, Emmanuel explains that the job wasn't completely devoid of excitement. Apparently, the actress caught more than one shoplifter during her tenure. "People really like to rob that shop," Emmanuel said. 
But working on one of the most popular shows on television certainly has its advantages — for example, an opportunity to learn new languages, like Game of Thrones' fictional Valyrian. And Emmanuel knows her stuff, as the actress is easily able to tell the difference between High Valyrian and Low Valyrian. And that's good, because according to Kimmel, "there are, like, 11 maniacs in the world who pay attention to this sort of stuff." 
The largest advantage of working on Game of Thrones, though, is likely the doors it's opened for the actress. Since being cast as Missandei, Emmanuel has joined two popular film franchises: the Fast and the Furious series and The Maze Runner adaptations. Before Game of Thrones returns for its seventh season, Emmanuel will appear in The Fate of the Furious, opening April 14. 
You can watch the interview with Jimmy Kimmel below:
Mic has ongoing coverage of Game of Thrones. Please follow our main Game of Thrones hub here.