9 civilians — including 4 children — killed in US air strike on Syria, state media says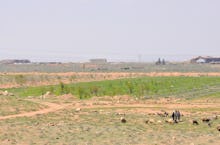 Syrian state media reported that four children were among the nine civilians killed in missile strikes ordered by President Donald Trump on a Syrian air base Thursday night.
The Syrian government — and Russia, its strongest ally — condemned the attack as an act of "aggression."
Trump ordered the air strike in response to a deadly chemical attack by President Bashar al-Assad on Syrian civilians.
"Assad choked out the lives of helpless men, women and children," Trump said Thursday. "Tonight, I call on all civilized nations to join us in seeking to end the slaughter and bloodshed in Syria and also to end terrorism of all kinds and all types."
The U.S. fired 59 Tomahawk missiles in a "targeted assault" on the air base, but the Syrian Arab News Agency reported that nine civilians were killed — and more injured — when the missiles hit the base and nearby villages.
Six Syrian jets were destroyed in the air raid, according to the Russian Defense Ministry. The base's runway remained intact, though, and just 23 of the 59 Tomahawks hit the base, a ministry spokesperson said.
Six servicemen are also believed to have been killed in the attack, the Telegraph reported.
The United States has received support from the United Kingdom, which called the chemical attack that prompted Thursday's air strikes "barbaric."
Russia, however, said the U.S. had engaged in an act of "aggression against a sovereign state in violation of international law" that will harm relations between the two nations.
The United Nations Security Council will be briefed on the U.S. air strikes Friday.