Nintendo Switch Availability: Toys R Us supply restock confirmed for this weekend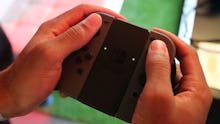 Tracking down an available Nintendo Switch is still a pretty tough task. Retailers like Best Buy occasionally refresh their stock, and Nintendo's flagship store released a restock schedule to make buying one a little easier. Nintendo even promised to double production this year. But none of this has made it much easier to actually get your hands on the Nintendo Switch — unless you're willing to pay extra for a GameStop bundle, that is.
Thankfully, Toys R Us is lending buyers a helping hand in the form of a Nintendo Switch restock. Here are the details.
Nintendo Switch availability: Toys R Us has more stock incoming
In an email, Toys R Us confirmed the arrival of more Nintendo Switch systems. See the full statement below:
Toys"R"Us is bringing Nintendo Switch back to store shelves this weekend. On Sunday, April 9, all locations nationwide will have new inventory of the console. Quantities will be limited and since we know they sell quickly, customers should get to their local store before the doors open at 10am on Sunday.
Toys R Us will have the Nintendo Switch available for purchase on Sunday, April 9. Mic reached back out to the retailer regarding whether they'll be selling the console on its own, in a bundle or both. We'll update this post if we receive word. 
Nintendo Switch pre-order: How to make sure you get your Switch on April 9
Switch stock is so limited, we almost get the sense that Nintendo hates money. But when supply does appear, you'll want to be among the tiny group of people who snag their device. There's not much you can do to ensure this, but here's how you can best prepare. 
Check Toys R Us store locator map and see which store is closest to them. Also double-check the hours of operation. While the company's statement mentions that the store will open at 10am, select stores open a little later, like this Toys R Us outlet for example. Double- and triple-check when the Toys R Us store opens near you.
Once you've chosen your store, call them to make sure that they will, in fact, be receiving added Switch stock on Sunday. Better safe than sorry.
Finally, expect to get to the store an hour before it opens. Trust us, it's not just you reading this post. Others are taking note of the Toys R Us Nintendo Switch restock too. Some will wake up earlier than you, others will be willing to fight you for it. Just get there an hour early and save yourself the trouble of console-purchase combat.
More Nintendo Switch news and coverage
Looking for more Nintendo Switch news? Check out how blind gamers are using the Nintendo Switch. Nintendo's left Joy-Con issue turns out to be a hardware problem — find out how to solve it. Find out how to buy a console amidst the recent restock. Learn why the Switch cartridges taste so bad. Check out our comparison photos sizing up the Switch to the Wii U GamePad (part one and part two), or find out how to make use of ethernet without the dock and the best way to get alerts when new stock arrives.