How Uber's "sophisticated" software is allegedly duping drivers and passengers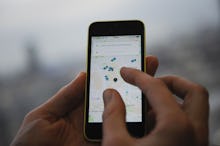 Uber might be in trouble once again. A class-action lawsuit filed against Uber in federal court in Los Angeles is alleging that the ride-hailing app is manipulating navigation data to rip off both passengers and drivers. The "clever and sophisticated" pricing strategy, which the complaint calls a "well-planned scheme to deceive drivers and users," dates back to September, when Uber introduced its "upfront fare," the lawsuit alleges.
The company announced in 2016 that it would offer an alternative to surge pricing — a multiplier surcharge to the base, time and distance of a trip fare during high-demand times — with upfront fares that would be calculated based on several variables, including distance and the estimated time to arrive at a specific destination.
"Upfront fares are calculated using the expected time and distance of the trip and local traffic, as well as how many riders and nearby drivers are using Uber at that moment," the company wrote in a post at the time. "And when fares go up due to increased demand, instead of surge lightning bolts and pop-up screens, riders are given the actual fare before they request their ride."
The lawsuit, uncovered by ArsTechnica, claims the manipulation surrounds how much Uber charges its passengers and how much it pays its drivers. When providing a price to a passenger, Uber selects the longest and most time-consuming route to generate a quote. But the driver is then given a shorter and more time-efficient path to arrive at the destination.
"The software that calculates the upfront price that is displayed and charged to the Users calculates the expected distance and time utilizing a route that is often longer in both distance and time to the one displayed in the driver's application," the suit reads.
Money flow is where things get muddled: While the passenger is paying for the longer route, the lawsuit alleges, the driver earns commission from the faster route. The suit's assertion is Uber keeps "the difference charged to the User and the fare reported to the driver, in addition to the service fee and booking fee disclosed to drivers." The exact amount Uber is allegedly pocketing is unclear, though Quartz shared one anecdotal instance where the discrepancy rounded up to 10%.