Chainsmokers' 'Memories ... Do Not Open': A snoozy follow-up to duo's hot singles streak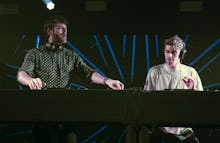 On their debut album Memories ... Do Not Open, the Chainsmokers don't show up for the dance party they began throwing last year. In 2016, the Chainsmokers went from just another EDM-pop duo in the dance music wave ruled by Calvin Harris, Diplo and recently Disclosure, to ruling the Billboard Hot 100 charts. Andrew Taggart and Alex Pall, the minds behind the Chainsmokers, took what was trendy to the pop-EDM soundscape, and delivered their own spirited, upbeat and infectious cuts. 
The duo made their mark calling on emerging pop singers, like Daya on "Don't Let Me Down" and Halsey in "Closer," which peaked at No. 1 on the charts. These songs led them on the road to the Grammys, where they won best dance recording for the Daya-led track. As the EDM-pop craze seemed to be burning out and moving towards more Caribbean-influenced backbeats, thanks to Rihanna, Drake and Justin Bieber, they still managed to make a resounding stance. 
But, the duo turns down the energy a bit on their new album, released Friday, and deliver darker moods and sedated pop-rock sounds that feature more of the duo's own vocals. Mix in the repetitive melodies and surface-level lyrics about toxic relationships, the Chainsmokers show they are here to relish as much as possible in their current height of success. The album doesn't necessarily prove they are mainstays able to transcend the ever-changing waves of pop music.
Like when the Chainsmokers teamed up with veteran rock group Coldplay for, "Something Just Like This," their tracks often begin with a stripped back monotone beat paired with soft vocals. They then build up the beat with a layer of sounds as the vocalist grows more emotional by the song's end. Additionally, features from Louane, Emily Warren and Jhené Aiko add a refreshment to these predictable song patterns.
As the listener explores the memories that they've been warned not to open, they find a load of dysfunctional thoughts on relationships. Like on the song "Break Up Every Night," the Chainsmokers sing about an on and off again love interest that's hanging on by a string via sex. "She wants to break up every night/Then tries to fuck me back to life/How can I help it if I like the way she makes me feel it?" they chant.
On "Young," they describe another messy love story, but reassure the issues being described are all because of teenage angst. 
We both know I go too far like when I wrecked your car
In a Facebook post, the Chainsmokers, went further into the meaning of the song and seemed to look back on these memories as experiences they were glad to have had.
We touch on all these specific moments in our past that led to the demise of a relationship. The times we had to sneak out of our parent's houses to be together or that time we crashed your car, when things were simpler but often our immaturity still played a role in bad decisions that sometimes led to amazing moments.
On "My Type," a collaboration with Emily Warren that can likely become a catchy single of its own, the singer is infatuated with an individual who might not be the best pick for her. But she lets her feelings lead the way instead of her intuition. "No, you're not the one, but you're all I want, yeah/ People say I'll get hurt, I don't know what they're so afraid of," Warren sings. 
The Chainsmokers saw Memories ... Do Not Open, as a moment to unveil more of their intimate thoughts and not so perfect ways of their past to connect with listeners. "The box of Memories ... Do Not Open symbolizes the message of our album," they wrote on Facebook. "The box of memories we collected has been there in all of our past cover art, the text box. We are opening that up to you," they continued. The album also offers fans, a complete body of work, apart from EPs the duo released in the past. Overall, if the Chainsmokers can only play into a radio trends game and not solid albums, the duo will only be able to stick around as long as their fan's attention span's may allow them to. 
Mic has ongoing coverage of the Chainsmokers. Please follow our main Chainsmokers hub here.