Bashar Assad: How the Syrian president rose to — and held onto — power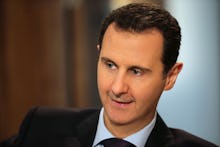 Bashar al-Assad — the Syrian president who has overseen a devastating civil war and this week killed more than 70 of his own citizens in a chemical attack — was once a "geeky" eye doctor, apparently disinterested in politics.
"He was by and large completely separate to the politics of the country," Neil Quilliam, a Middle East expert at the London-based Chatham House think tank, told NBC News in 2015. "He had shown no interest, had not entered the military."
The second-eldest son of ruler Hafez al-Assad, he moved up in the order of succession after his brother, Basel, died in a car crash. When his father died in 2000, he ran unopposed and was elected president.
That's how Bashar al-Assad rose to power. Here is how he's held onto it — in the face of rebellion and foreign leaders' calls for him to step down. 
Violent crackdowns on opponents
The Syrian civil war began after Assad forces attempted to violently quash the protests that had swept across the country as part of the Arab Spring.
Over the next six years, as the civil war has dragged on, Assad's regime has continued to use military forces against both rebel fighters and civilians like those killed in Tuesday's gas attack.
Killed and imprisoned journalists
Freedom House, a government-funded nonprofit watchdog group, ranks Syria as one of the most dangerous places to practice journalism in the world.
Journalists in the country are routinely "killed, injured, abducted or imprisoned" by Assad's government, along with opposition factions and ISIS, the group reported. 
Though the country's constitution nominally grants freedom of the press, broad wording "gives the authorities leeway to crack down on journalists if they wish," according to Freedom House.
The Syrian government has restricted news coverage of the country's civil war, censors media within the country and disseminates propaganda via state-run media.
Help from foreign governments
The Assad regime has received support from Iran and, in particular, Russia. 
Assad's strongest ally, Russia has backed devastating airstrikes against rebel-held territories during the Syrian civil war going back to 2015.
On Friday, after President Donald Trump ordered a strike on a Syrian air base in response to Assad's chemical attack, Russia said the United States had engaged in an "act of aggression against a sovereign state in violation of international law" and warned that the act would harm relations between the two nations.