Meet Lucinda Franks, the once-youngest female Pulitzer Prize winner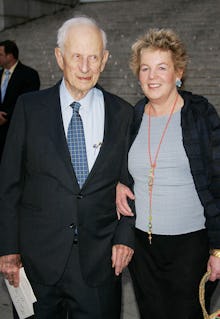 On Monday, the Pulitzer Prize will announce their crop of 2017 winners, adding another wave of honorees to the award's 100-year history.
But while many have been honored with Pulitzer Prizes over the past century, journalist Lucinda Franks stands out for two important reasons. In 1971, Franks became the first woman to win the Pulitzer for national reporting — and at age 25, was, at the time, the youngest journalist to ever win a Pulitzer Prize.
Early life and entrance into journalism
Franks was born in 1946 and had a well-to-do upbringing in Wellesley, Massachusetts. In the biography on her website, Franks describes the suburb as "a town, like many others, of wealth, social status, and women who often had raised noses."
She took a rebellious turn toward the counter-culture in high school at the private school Beaver Country Day, which Franks explains was her "dream paradise — a clique of individualistic, rebellious hippies."
After attending Vassar College, Franks — who saw Vietnam-era America as "morally bankrupt" — moved to London, where she got a job as a coffee girl at the news service United Press International, soon working her way up to become the bureau's first female reporter.
Though Franks' first assignments were on the "beauty contest and dog show beat," she soon transitioned to more serious fare after a trip with fellow anarchists to Northern Ireland. 
Franks writes:
Then one weekend I went to Belfast with some fellow anarchists and marched from Belfast to Dublin on behalf of civil rights for the Catholic minority. We were ambushed near the Irish border by club wielding Protestant bullyboys. With blood running down my face – from a minor scalp wound – I excitedly called UPI London. "Civil war has broken out here and I've got the story!" I shouted through the noise of the crowd. "Get out of there, Franks," my boss replied, "and make it quick. Women aren't allowed to cover war zones. UPI rules." I pointed out that by the time they sent a man to replace me, the story would be over. And that is how I got off beauty contests and spent the next several years dodging bullets in Northern Ireland.
Pulitzer Prize
After Franks transitioned to more rigorous reporting, she was sent on assignment to New York City by UPI to investigate Weatherman, an anti-war group that had been thrust into the national spotlight through the 1970 death of three members, including Diana Oughton, who were blown up while helping to make bombs.
Franks and assistant Thomas Powers, who shared her byline, published a five-part series on Oughton's radicalization — and soon took home the Pulitzer Prize for their reporting.
The journalist's milestone win was not received warmly by her colleagues at UPI, who were predominantly male.
"The day after the announcement, I strode in to the office expecting a few claps on the back, but instead, there was dead silence," Franks said in a 2016 interview with UPI. "Nobody even looked up. Nobody said a thing. They just ignored me."
Franks kept her landmark win "quiet for a long time," the journalist recalled, "until I finally went back and read the series and realized it was a damn good story and I deserved to win."
Post-Pulitzer career
The Pulitzer "remained like a gold-plated calling card for life," Franks notes on her website.
"People look at you differently; editors look at you differently. It got me in places I didn't even know I had gotten because of it," the journalist told UPI.
Following her Pulitzer win, Franks soon went on to a staff writing job at the New York Times, and earned bylines in such publications as the New Yorker, the Atlantic and the Daily Beast, where Franks became "the city's Bernie Madoff expert" during the financier's high-profile Ponzi scheme scandal, according to her website.
Franks' published writing also includes several books, including the 2007 memoir My Father's Secret War, about Franks' father's work as a spy during World War II.
Most recently, Franks penned the 2014 memoir Timeless: Love, Morgenthau, and Me, about the journalist's marriage to former New York district attorney Robert Morgenthau, who is almost 30 years Franks' senior. The two have been married since 1977.
"She interviewed me about Nixon's fund-raising activities," Morgenthau told the Poughkeepsie Journal about the couple's first encounter. "She was working for UPI at that point. She made me spell out all these names and I said, this is the dumbest reporter or the smartest. After I read the story, I said she was the smartest."
Correction: April 9, 2017