Kendrick Lamar's new album: A breakdown of track list credits ahead of the release date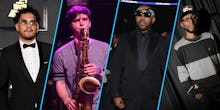 On "The Heart, Pt. 4" Kendrick Lamar said we'd have until April 7 to get our shit together — so we could prepare ourselves to behold his new album's release date. The missed deadline may go down as one of the most epic bait-and-switches in hip-hop history. 
Unless Lamar decides to drop another jewel, fans have another week of thumb twiddling and "Humble" replaying to look forward to, though with one new vital piece of the puzzle to pore over — the tracklist composer credits. 
An enterprising Reddit user, signposthead, uncovered a way to view the composer credits on iTunes, and found the album contains contributions from Sounwave, DJ Dahi, James Blake, jazz band BADBADNOTGOOD, the Alchemist, Cardo and U2, of all bands.
Not all of these will be full collaborations. U2 is likely a sample — an even bloodier redux of "Sunday Bloody Sunday," perhaps. BADBADNOTGOOD and Lamar have been dancing around the sound for some time now, so that could feasibly be a full studio collaboration. 
Below is a full breakdown of each of the names Lamar will be tapping to help him bring his fourth studio album to life.
Daniel Tennenbaum
Daniel Tennenbaum, also known as the producer Danny Keyz, has been a mainstay in Eminem and Dr. Dre's Interscope universe for years now. He's earned credits on Dre's Compton and Eminem's Bad Meets Evil project Hell: The Sequel. More recently, he notched a writing credit on BJ the Chicago Kid's In My Mind project. Lamar also appeared on that project, contributing a verse to the song "The New Cupid," one of the rapper's strongest but under-appreciated features of 2016.
Mike WiLL Made-It
Few producers are as omnipresent in hip-hop today as Mike WiLL Made-It. The Atlanta producer has helped define the sound of chart-topping hip-hop, earning a No. 1 single in Rae Sremmurd's "Black Beatles" and helping pave the way for the bad and brash Beyoncé by crafting "Formation." However, it's not so easy to pigeonhole his sound. He produced the sparse, pummeling beat for "Humble," which is not traditional radio fare by any means.
Sounwave
Top Dawg Entertainment's secret weapon, Sounwave has helped put together stand-out tracks on most every TDE release since they became one of rap's major powers. He's one part of the four-man Digi+Phonics team, and has produced some of the label's biggest hits, coining the streetwise future funk present of Lamar's "Bitch Don't Kill My Vibe" and ScHoolboy Q's "THere He Go" and "THat Part" featuring Kanye West, among others.
DJ Dahi
Lamar likes to keep the family close. Once he links with a producer he likes, they enter his ecosystem and never go far. DJ Dahi is best known for producing Lamar's "Money Trees" from the Good Kid M.A.A.d. City project, but he's worked with artists around the industry, from Drake to Vince Staples to SZA and Kelela. He's a master at curating that sparse, trap-driven, lightly psychedelic vibe that drives so much of hip-hop and R&B.
James Blake
With his ghostly vocals and sparse electronic beats, James Blake's 2011 self-titled album helped lock R&B into its current dreamy, ethereal trajectory, which has since spawned masterpieces like Frank Ocean's Endless, Kelela's Hallucinogen EP and Sampha's Process. His stunning 2016 album The Colour in Anything got a little lost in the shuffle, but he got his name onto several of the year's biggest projects, including Beyoncé's Lemonade and Travis Scott's Birds in the Trap Sing McKnight.
BADBADNOTGOOD
Toronto jazz outfit BADBADNOTGOOD made a name for itself by translating Odd Future's lo-fi grimey beats into racing jazz standards. They've since helped OG's Ghostface Killah and Snoop Dogg engineer relevant contributions to modern hip-hop history, and added some organic instrumentation to Kaytranada's 99.9% soulful house project. The band is a natural fit for Lamar who's been continually looking for new ways to graft jazz into hip-hop since 2011's Section .80 and earlier.
The Alchemist
One of the gatekeepers of the '90s boom-bap sound, the Alchemist has consistently helped rappers from Action Bronson to Danny Brown to Talib Kweli create bridges between hip-hop's classic and modern periods. We've had one taste of how he fits with Lamar's juggernaut flows on "The Heart Pt. 4," though he was one of four producers alongside DJ Dahi. Track 12 on Lamar's new album will be all Alchemist, all Lamar — a pairing fit for the hip-hop history books.
U2
Lamar and U2 have more points of connection than first meets the eye. Both have a keen interest in blending music and politics into a seamless and enjoyable whole, with Bono and Lamar both extending their advocacy into the political landscape. Both have made frequent use of religious imagery to add gravity to their critiques and personal explorations. In many ways, a U2 instrumental might actually provide a fitting backdrop for Lamar's introspective condemnations of the system and the myriad ways it restricts consciousness.
Cardo
The St. Paul, Minnesota-born Cardo broke onto the scene by contributing beats for Wiz Khalifa's classic Kush & OJ mixtape. He's since become a trap mainstay, appearing on Migos' Culture on the song "Deadz" — the most hard-hitting track in the lineup — and Travis Scotts' "Through the Late Night" remix on Birds, featuring Kid Cudi. He'll likely help Lamar return his sound to hip-hop's mainstream after the jazz break of To Pimp a Butterfly.
9th Wonder
Producer, rapper and lecturer 9th Wonder did Lamar a major honor in January, including To Pimp a Butterfly in the first round of hip-hop albums to be preserved in Harvard's Hiphop Archive. As an artist himself, 9th Wonder got his production start as the main producer for Little Brother, and has contributed to albums by Jay Z, Erykah Badu, Ludacris, Destiny's Child and Anderson Paak. Expect him to provide the golden-age backdrop for Lamar to make his album's final defining statement.
More Kendrick Lamar news and updates
Mic has ongoing coverage of Kendrick Lamar's rise. Check out our review of his previous To Pimp a Butterfly and a breakdown of the structuralist and culturalist theories of racism that clash at the album's heart. Read up on the story of his rise from Compton local favorite to king of the west coast, alongside a list of his best guest verses, a breakdown of the lyrics to "The Heart, Pt. 4" and "Humble" and an investigation of how "Alright" became a go-to protest anthem.