Here's how some Syrians are reacting to the US missile attack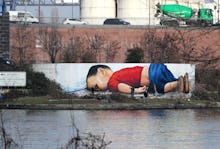 Abdou Kattih said he felt numb when he first heard of reports that Syrian President Bashar Assad's regime had unleashed a chemical attack in Khan Sheikoun of the Idlib province. 
"I tried to check on relatives," Kattih, a 42-year-old pharmacist in Murfreesboro, Tennessee, told Mic in a direct message. "I watch for posts with names of victims on social media."
Kattih's friend in Syria informed him that Emaddudin Khadah, his friend from college in Damascus, was among the dozens of people killed from the sarin gas attack on Tuesday morning. Now, on the coattails of Khadah's death, and after six years of the Syrian civil war, Kattih joins other Syrians in processing their reactions to President Donald Trump's missile attack on a regime airfield on Thursday evening.
"I am optimistic [of the airstrikes] because of the fact that they were surgical in nature and they were targeting a specific air base that has been used to bomb cities and kill innocent civilians repeatedly," Kattih said. "I hope these airstrikes will decrease Assad regime's ability to mass kill civilians like they did in Khan Sheikoun."
Kattih isn't alone in his beliefs. Some Syrians have changed their profile pictures to Trump's photo as a way to show their support for the airstrikes. Kattih joins the voices of several Syrians Mic interviewed who believe Trump's missile attack on a military airfield would end the ongoing bloodshed in the country.
Ramah Kudaimi, a Syrian-American organizer for the Syrian Solidarity Collective based in Washington, D.C., said she can sympathize with why so many Syrians approve of Trump's missile attack on the Assad regime.
"It is understandable why there are Syrians who are relieved that a military airfield of the brutal Assad regime that has bombarded them for years, including with chemical weapons, would finally be targeted," Kudaimi said in an email.
She said a lot of these sentiments are in response to the lack of accountability from the international community since the beginning of the war, when Assad forces killed pro-democracy protesters, including an 8-year-old boy and an infant, at the height of the Arab Spring.
"There has been no accountability for the deaths of hundreds of thousands of Syrians by Assad and his allies Iran and Russia, people killed only because they dared to rise up in 2011 and demand freedom and dignity," Kudaimi said.
Since 2011, the international community watched Assad — with the assistance of Russian Prime Minister Vladimir Putin — wreak havoc on the Syrian people while simultaneously claiming to fight ISIS on the ground. This included multiple chemical attacks, like the 2013 use of sarin gas in Ghouta, airstrikes targeting hospitals and first responders, the bombings of civilian homes and sieges against rebel-controlled areas.
The U.S. has also killed thousands in the Syrian conflict with their airstrike campaign against ISIS in 2014 and, most recently, the bombing of a mosque in the rebel-controlled al-Jina village in mid-March.
Omar Zayed, a 29-year-old software developer in Washington, D.C., said he is sure there's an ulterior motive to the Trump-ordered airstrike campaign. Zayed believes it doesn't bode well for the future of Syrians if Trump continues with airstrikes in the country while also refusing to take in its refugees. But that alone does not dissuade Zayed from siding with any measure to oust Assad from his presidential seat.
"I am for any concrete or forceful steps towards dismantling the Assad regime and its ability to continue its brutality towards more innocents," Zayed said in a direct message. "Assad's time has been up for years. Too many innocents have perished, and it's about time more force is used. I just hope this actually ends up making a difference in dismantling the regime."
Israa Ibrahim, 23, shares Zayed's sentiments: She wants Assad gone. Ibrahim, who escaped Syria and has lived in Gaziantep, Turkey, for five months, said she actually hopes the airstrikes would've came sooner. "Better late than never, America!" she said. 
Dima Sbenaty was born in Damascus and moved to Tennessee when she was five months old. The last time she saw her relatives in Syria was in 2010, before the beginning of the civil war. The 27-year-old believes the worst has already happened in Syria and that the conflict can only resolve itself from here.
"His ideology and his regime must fall," Sbenaty said. "We shouldn't be afraid of what will come afterwards. The situation can only go up from the point we have reached."
But not all Syrians agree with Trump's decision to launch missiles into Syria. 
Shiyam Galyon, campaign coordinator for Books Not Bombs, said there is uncertainty after the bombing of Assad's military target. While she and many other Syrians would like to see Assad gone, Galyon, 26, who had family members of her own that considered jumping on airboats to flee Syria, said this doesn't undo the anti-refugee rhetoric Trump has espoused over the course of the election cycle.
"This is significant to the Syrian people because the Assad regime is leading an extermination campaign against them, and is most culpable for civilian deaths in the country," Galyon said in a direct message. "We know the Trump administration has criminalized Syrian refugees and that the U.S. military has bombed a mosque full of civilians in Syria without accountability, so we are waiting to see what happens next."
Ramah Kudaimi, however, wants an immediate and complete end to all airstrikes on Syria. Ultimately, she envisions a free Syria where all refugees are capable of returning home safely.
"More bombing means more Syrians killed," Kudaimi said. "What is needed now for the Syrian people is an immediate end to all airstrikes by all parties, the withdrawal of all occupying forces and the start of a real process of accountability for all war crimes that will pave the way for the rebuilding of a free Syria that will be safe enough for the millions of refugees to return home."