This Week in Reproductive Rights: Trump defunds the UN's maternal health fund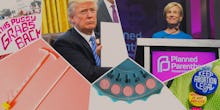 This week, President Donald Trump continued his heartless rampage against global women's health initiatives when he halted U.S. contributions to the United Nations Population Fund, the U.N.'s endowment for maternal health, child care and family planning. 
According to a letter from the State Department, Trump's administration was worried about the fund's stance on abortion and accused the organization of promoting "coercive abortion or involuntary sterilization."
UNFPA officials called this claim baseless and expressed their regret that the United States would no longer be working with them to help keep women and girls around the world healthy — and, well, alive.
"The support we received over the years from the government and people of the United States has saved tens of thousands of mothers from preventable deaths and disabilities, and especially now in the rapidly developing global humanitarian crises," officials said in a statement Tuesday.
Not in Trump's America.
Here's the gist of what else you might have missed this week
• News broke Thursday that Ivanka Trump had secretly met with Planned Parenthood President Cecile Richards in the weeks following her father's inauguration. But despite the initial gesture of goodwill, Trump has little to show for it, considering she now has a formal role in an administration bent on limiting women's reproductive rights. 
• In other Planned Parenthood news, a federal judge on Monday announced his intention to block some of Missouri's abortion restrictions. U.S. District Judge Howard Sachs issued a "Memorandum to Counsel" explaining he would grant an injunction requested by Planned Parenthood in November, when it joined a lawsuit accusing the state of implementing unconstitutional roadblocks to abortion access.
• In more good news for Planned Parenthood, Maryland became the first state to legally promise to continue funding its Planned Parenthood locations. Republican Gov. Larry Hogan allowed the measure to pass into law without his signature on Thursday, along with 14 other bills. We're not sure what's up with him, but we're glad for it.
• It turns out the United Kingdom is using a portion of its much-maligned tampon tax to fund the anti-abortion agency Life, a group that runs crisis pregnancy centers and has been mired in controversy for providing pregnant women with medically inaccurate information. Life now receives £250,000 of the revenue from feminine hygiene products, money that's supposed to go toward organizations that "improve the lives of disadvantaged women and girls across the country."
• Abortion rights advocates in Indiana scored a win on Monday when a federal judge temporarily blocked a state law requiring women to receive an ultrasound at least 18 hours before getting an abortion. Ultrasound requirements are one of the anti-abortion movement's oldest tricks in the book for restricting abortion access — and they hurt low-income women most.
• On Tuesday, the internet met this hero man, who went absolutely ham on some anti-abortion signs on the Texas State University campus. We are still wondering who he is — please let us know if you have any intel.
• Meanwhile, our favorite reproductive-rights bill is advancing in the Texas legislature. Rep. Jessica Farrar's satirical but extremely apt House Bill 4260 — the Man's Right to Know Act — would fine men $100 for masturbating. The proposed legislation has landed with the Texas House State Affairs Committee, and while there's extremely little chance it will become law, it does make an excellent point.
• Reportedly butthurt after his Democrat colleagues spent hours ripping his proposed abortion regulations, Missouri Sen. Bob Onder suggested Wednesday that the St. Louis Zoo rename itself the Midwest Abortion Sanctuary City Zoological Park. Onder's apparent non-sequitur actually links two issues he opposes: expanding the zoo's tax revenue and St. Louis' refusal to allow employers and landlords to discriminate against women who've had abortions. Missouri Gov. Eric Greitens said the refusal makes St. Louis an "abortion sanctuary city," and Onder seems to believe putting abortion in the zoo's name will put off taxpayers. It's Missouri, so he's probably right.