Finally, there's a retailer paying attention to jeans for tall women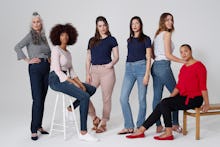 In a new campaign from retailer Long Tall Sally, which specializes in clothes for tall women, a group of six women ranging in age (19 to 57), size (6 to 12) and height (5 feet 10 inches to 6 feet 1 inch) get real about what it's like being tall and constantly being faced with jeans that just don't work. 
The campaign — called LOVE. WEAR. REPEAT. DENIM. — promotes Long Tall Sally's own denim collection created especially for tall women, from different knee positions and taller waistbands to pockets that accommodate a larger hand. 
"The most important thing I look for in jeans, for me, is comfort," 57-year-old Nicole — who's 5 feet 10 inches tall — said in Long Tall Sally's campaign video. "I want to put them on, be comfortable, forget I've got them on and just get on with my day."
Taking all those tiny details into account, Long Tall Sally's campaign and new denim line is one of the first times a brand has openly spoken about how difficult it can be for tall women to find jeans made for their bodies.
Long Tall Sally's jean collection includes 11 styles, three inseam lengths, 10 washes, seven leg shapes and three rises to choose from, offering each of these women an opportunity to find exactly the right jean for them. 
On the campaign website, the women also elaborate on their own favorites from the line. 
You can watch Long Tall Sally's entire campaign video here.