Did Obama ever bomb Syria? Here's how President Obama handled the Syrian crisis.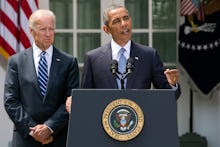 President Donald Trump ordered a strike against the Syrian government Thursday night in response to a devastating chemical attack by Bashar Assad's regime.
The United States launched 59 Tomahawk missiles at an airbase in Syria in response to what Trump described as "slaughter and bloodshed" in the country.
It was the first direct U.S. attack on Assad's government.
Trump had previously condemned Assad's chemical attack, saying it had "crossed many lines" for him — but blamed former President Barack Obama for doing "nothing" about Syria in the past.
"President Obama said in 2012 that he would establish a 'red line' against the use of chemical weapons and then did nothing," Trump said, saying the attack that left dozens of Syrian's dead was a "consequence of the past administration's weakness and irresolution."
How did Obama handle the Syrian crisis?
Though he did not attack the Syrian government, Obama did not do "nothing."
At the onset of the Syrian civil war, the Obama administration imposed sanctions against Assad's government and called for the Syrian president to step down.
In 2012, he set a "red line" against the use of chemical weapons, which Assad crossed when he killed more than 1,400 people using sarin gas outside of Damascus.
Obama considered military strikes against the Syria government and drew up plans to do so, but instead pursued diplomatic solutions. 
Trump was against military intervention at the time, repeatedly arguing that the United States should "stay out of Syria."
"AGAIN, TO OUR VERY FOOLISH LEADER, DO NOT ATTACK SYRIA," Trump tweeted in 2013. "IF YOU DO MANY VERY BAD THINGS WILL HAPPEN & FROM THAT FIGHT THE U.S. GETS NOTHING!" 
Trump also tweeted that the United States would "look very bad" if civilians were killed in an attack on Syria; nine civilians, including four children, were killed in Thursday's strike, according to Syrian state media.
The United States was allowed to enter the country and remove and destroy at least a significant portion of Syria's stockpile of chemical weapons. The Obama administration also sent arms to anti-Assad rebel groups in the country.
While the missile strike Thursday marked the first time the U.S. directly attacked the Assad regime, it is not the first U.S. airstrike in the country. The U.S. began air raids on ISIS forces in Syria in 2014.