White Minnesota man charged with bias-motivated assault for choking Somali cab driver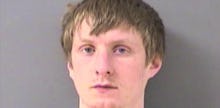 Zachary Degraw, 23, was charged with bias-motivated assault — a gross misdemeanor — and two counts of misdemeanor assault on Thursday for allegedly wrapping his arm around the throat of a Somali cab driver and choking him during a ride through St. Cloud, Minnesota, on March 25, the St. Cloud Times reports.
A female passenger in the cab reportedly told Benton County Sheriff deputies that "the defendant was racist." When the deputies asked Degraw why he'd choked the driver, Degraw said he was worried the driver would call some of his friends, or someone within his own race.
"Well, he is Muslim," Degraw reportedly said. "You tell me, do you not know what these Muslims will do with a white American girl?"
The attack occurred while the driver was transporting Degraw and the woman to Rollie's Rednecks & Longnecks, a local bar. When Degraw started choking him, the driver was unable to radio his dispatcher or call for help, and started swerving back and forth across Minnesota Highway 23 as he struggled with his violent passenger.
Degraw is white. In recent years, numerous white men in the United States have similarly attacked or even killed black men citing fear of what they might do to white women. During his June 2015 massacre at the Emanuel AME Church in Charleston, S.C., Dylann Roof reportedly told one of his nine black victims, "I have to do this because y'all are raping our women and taking over the world."
In March, James Harris Jackson — a white man from Baltimore — said he'd stabbed 66-year-old Timothy Caughman through the chest in midtown Manhattan to deter white women from getting romantically involved with black men.
"If that guy feels so strongly about it, maybe I shouldn't do it," Jackson told the New York Daily News, explaining how he wanted white women to think about interracial dating in light of his attack.
This fixation goes back centuries: Roughly 4,000 black men were lynched between 1877 and 1950, often as retribution for perceived slights against white women. 
The March 25 altercation also comes during an era when anti-Muslim violence is spiking in the U.S. The Pew Research Center reports that there were 91 anti-Muslim assaults in 2015 alone, nearly matching the previous high of 93 in 2001. Thirty-five American mosques have been attacked or vandalized in 2017 so far.
Yet despite all available evidence, Degraw's lawyer insists his client was not motivated by bias.
"I have known Mr. Degraw for some time and he is not a racist or biased person," attorney Robert Stoneburner reportedly said. "He has no ill will towards minorities and alcohol was likely a contributing factor in this event."
Degraw is due back in court May 4.