Tomi Lahren is suing Glenn Beck and TheBlaze for wrongful termination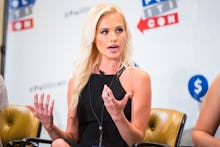 Right-wing provocateur and alleged pro-choice advocate Tomi Lahren has filed suit against Glenn Beck and TheBlaze, Lahren's former employer, for wrongful termination, the Dallas Morning News reports. 
During a March appearance on The View, Lahren told the show's co-hosts that she believed in a woman's right to choose because of her beliefs as a constitutional conservative. 
"I'm for limited government, so stay out of my guns and you can stay out of my body as well," she added. 
After Lahren's comments, TheBlaze temporarily suspended the outspoken personality before eventually giving her the heave-ho. 
Lahren's suit was filed Friday in Dallas County, according to the News. It says that TheBlaze wanted to continue to pay Lahren, "hoping they could find an exit strategy to sanitize their unlawful conduct" for breaking the terms of Lahren's contract, which was supposed to continue through the end of September. 
According to the suit, the brouhaha resulting from Lahren's comments was made to "inflate Beck's profile" at Lahren's expense. A producer at TheBlaze applauded Lahren's appearance on The View, the suit also says. 
"No one told [Lahren] that her statements on The View were either improper or inappropriate; and, indeed, that [Lahren's] point of view is just that — her point of view and freedom of expression," the suit says, according to the News. 
Lahren also contends that TheBlaze knew of her pro-choice position. She said she was "disappointed" and "saddened" to learn she was terminated for "freely expressing her opinions," according to the suit. 
Lahren's bosses at TheBlaze ordered her to keep mum on social media, though she says that her Facebook page, and it's 4.2 million followers, are not TheBlaze's property. Her coworkers also reportedly placed a yellow "X" made of caution tape on her dressing room door. Her work email account has also been deleted, according to the suit. 
Lahren is asking a judge to grant her a temporary restraining order, which would allow her to speak freely and stop TheBlaze from destroying evidence related to her termination. She also wants attorneys' fees and costs covered, as well as "other relief" to which Lahren believes she is "justly entitled." 
In a statement to Mic, TheBlaze responded to Lahren's suit. 
"It is puzzling that an employee who remains under contract (and is still being paid) has sued us for being fired, especially when we continue to comply fully with the terms of our agreement with her," TheBlaze said. In the statement, the outlet also indicated that Glenn Beck would not comment on the matter. 
Apr. 7, 2017, 6:28 p.m.: This story has been updated.