A pro-life group will fly an anti-abortion flag outside a Canadian city hall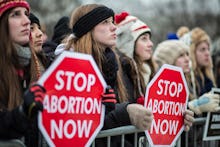 For the second year in a row, protesters are battling a pro-life group angling to fly an anti-abortion flag outside the city hall in Prince Albert, Canada.
The flag, which the group intends to fly in May for "Celebrate Life Week," includes clip art of a baby attached to an umbilical cord pleading, "Please let me live."
According to the Independent, the group's members will hoist the flag up the city hall's "courtesy" flagpole, set aside for charities and other community organizations. 
While typically community service workers decide what flags fly on this special flagpole, it sounds like they'll have to pass the buck to city councilors on this one. Their official flag policy specifies any "requests to fly flags of commercial, political or religious organizations require the approval of the city council."
Protesters are hoping to convince the council that it would be a truly terrible idea to fly the flag with a Change.org petition they plan to deliver to city hall once it reaches 500 signatures. As of this writing, they have 307. 
"City hall must not appear to promote the causes of groups working against women and gender diverse people's fundamental human rights," the petition reads. "Period."