2019 NBA All-Star Game may return to North Carolina after repeal of HB2 "bathroom bill"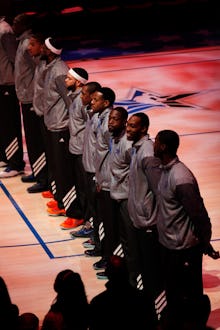 NBA Commissioner Adam Silver announced Friday that he expects to award the 2019 All-Star Game to Charlotte, North Carolina, reversing the league's decision to boycott the state due to its controversial anti-transgender bathroom bill.
The bill was nominally repealed in March by new Democratic Gov. Roy Cooper and the Republican-controlled state legislature.
"By engaging more deeply in North Carolina we can be part of a national effort to secure more LGBT rights in North Carolina," Silver said after a league meeting Friday, according to CNN Money. 
Silver added that the decision was not final yet, but that if North Carolina can meet the NBA's anti-discrimination requirements, awarding the basketball game to Charlotte would be a "powerful way to display our values of equality and inclusion."
Charlotte was scheduled to host All-Star Weekend — which can generate upwards of $100 million in economic activity for its host city — in February 2017. But the NBA rescinded that privilege, citing North Carolina's dismal record on LGBTQ rights.
House Bill 2 — which required people in North Carolina to use public restrooms that matched the gender assigned at birth — was a source of heated dispute ever since then-Gov. Pat McCrory signed it into law in March 2016. But McCrory, a Republican, failed to get re-elected in November. Cooper reached an agreement with the North Carolina General Assembly to repeal the bill on March 29.
Unfortunately, LGBTQ advocates say, the solution might be even worse than the problem. The compromise measure — HB 142 — bars municipalities from passing nondiscrimination ordinances until late 2020 (a deadline the GOP-controlled legislature could easily extend at whim, according to Slate). 
The bill also blocks branches of government from regulating bathroom access without approval from the general assembly — approval that the GOP-controlled body would likely never give. This effectively prevents state agencies, institutions and schools from passing trans-inclusive policies altogether.
Human Rights Campaign called the HB 142 compromise "shameful," saying it "doubles down on discrimination" and "puts LGBTQ people at risk." All of this suggests that — by returning the game to Charlotte — the NBA won't actually be taking the stand for equality it seems to think it is.