Future's "Mask Off" and 4 other songs made into epic social media challenges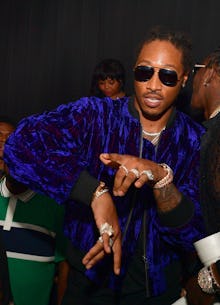 Right about now, Future should be recruiting musicians from the #MaskOffChallenge, the latest social media craze to hit the internet this week. The rapper's song "Mask Off" was taken to new levels as users covered it with various instruments. Contributors played the cello, violin, guitar and steel pans to remix the track. The acoustic responses were likely inspired by the infectious flute sample on the record, which Metro Boomin' borrowed from "Prison Song," a 1979 record by Tommy Butler and featuring Carlton Williams.
"Mask Off" is currently No. 18 on the Billboard Hot 100, and after this challenge it may spike. This is not the first time social media challenges have made a song popular or brought throwback songs back to life. Here is a look back at other songs made into epic social media challenges.
#MannequinChallenge
Rae Sremmurd's "Black Beatles" was the soundtrack to the #MannequinChallenge in 2016. During the challenge, usually done by a group, individuals stood still while the camera person panned the room. The #MannequinChallenge made its way to the White House and even one of the original Beatles, Paul McCartney, joined in on the fun. The hip-hop duo's song eventually topped the Billboard Hot 100. 
"Juju on That Beat"
Zay Hilfigerrr and Zayion McCall brought the biggest dance-crazed track in 2016 with "Juju on That Beat." 
The success of the song was driven by viral videos of everyday people following the dance moves instructed by the duo on the track. "Juju" is a freestyle over "Knuck If You Buck" by Atlanta hip-hop crew Crime Mob, released in 2004. The Ellen DeGeneres Show and Live With Kelly brought the craze to TV.
Running Man Challenge
Two New Jersey high school students, Kevin Vincent and Jeremiah Hall, shot a video doing their version of the running man dance to the 1999 song "My Boo" by Ghost Town DJs. As the dance craze spread, the song returned to the Billboard top 40 charts and peaked at No. 29. 
Harlem Shake Challenge
One of the most widely spread dance crazes was the Harlem Shake challenge in 2013. The song that inspired the challenge was "Harlem Shake" by Baauer. Videos of groups breaking out into full out dance routine after the song's beat dropped went viral. However, many criticized the meme because it did not showcase the original Harlem shake dance popularized by hip-hop artists in the 2000s.
Mic has ongoing Future coverage. Please follow our main Future hub here.