Best Tax Software 2017: Take the pain out of doing your taxes with these top-rated tax programs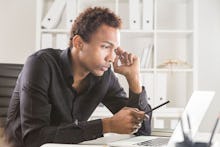 Believe it or not, 34% of Americans say they either like or love doing their taxes, according to a 2013 Pew Survey. That may be because most are eager for the refunds — which makes a lot more sense than being excited about tax paperwork. 
But it doesn't take a survey to figure out that doing your taxes is a lot more enjoyable if it doesn't take forever and you don't get bogged down by the obtuse language the IRS is so fond of confusing you with. That's where a good tax program comes in handy.  
If all you care about is doing your taxes for free, check out our roundup of free software to see which program is right for you. But if you want the best program regardless of price, consider these top 3 choices. 
1. TurboTax
Pros:  Intuitive interface with a logical organization; explains complex tax terms in plain language; connects paid users with a tax expert in real time. 
Cons: Unexpected fees and annoying upsells; prices increase the later you file your taxes.
TurboTax is a perennial favorite among online tax filing programs. "Its attractive interface, logical topic organization, and conversational tone make entering your data more comfortable than in any other software we tested," Wirecutter notes. Compare that to competitors like H&R Block, which suffers from "a bland website and slightly confusing interface," according to Simple Dollar, and you can see why TurboTax consistently wins top reviews.
Filers move through a logical process and are prompted with simple questions in plain language. Repeat users can easily transfer information to their new return from prior years and there are special tools for the self-employed that make finding and tracking expenses (and deductions) easy. 
All paid users can get questions answered by tax experts in real-time thanks to a new video help feature that lets support people see your TurboTax screen while you talk so you can get answers to your questions faster. 
Unfortunately, all good things come at a price. While TurboTax is the easiest software to use, it can also be a costly option. "You can easily spend over $100 on software and state-return preparation," according to NerdWallet.  While there is a free version available, you can't use it for the standard 1040 and you still have to pay extra to file your state returns.
2. TaxAct
Pros: A lower-cost solution with unlimited phone support; good mobile app
Cons: Clunkier interface than TurboTax; cost savings shrinks closer to tax deadline
If you're looking for a budget option with good tech support, TaxAct is a solid choice. "Although the explanations in TaxAct are somewhat more complex, we found it to be a good value: a less costly choice for consumers," Consumer Reports notes. 
That cost savings shrinks dramatically for late filers, however. As of April 5, TaxAct users who reported earnings from investments had to pay $47 (or $57 if you are self-employed) plus $43 for "complex" state returns versus TurboTax Premier's $79.99 price for federal returns and $39.99 for state returns. 
Anyone who dreams of doing their taxes on their phone is in luck, too: You can use the free TaxAct Express app to do simple state and federal returns on an iPhone or Android. Simple state and federal returns are free online, too.
3. TaxSlayer
Pros: Inexpensive; free state and federal filing if you file a 1040EZ
Cons: User experience is somewhat lacking
TaxSlayer lets users take pictures of W2s with the mobile version to making inputting information easy.  A life events guide and prior year comparison also make the process intuitive. It's also a good deal: Fees range free (to file a 1040EZ and state return) to $55 (if you are self-employed). State returns may be an extra $27, depending on which version of the software you use.
Users can even customize their level of help. "It allows you to complete the required forms and schedules with minimal guidance – or, if you prefer, with the help of a "wizard" that emulates more hands-on programs such as H&R Block and TurboTax," MoneyCrashers notes. 
But TaxSlayer is still a third pick behind TurboTax and TaxAct: "It doesn't, however, provide the superior user experience that TurboTax does, and its help is not nearly deep or as well integrated into the actual interview process as in TaxAct," PCMag notes. That said, it's still a solid pick and well worth considering.
Sign up for The Payoff — your weekly crash course on how to live your best financial life. Additionally, for all your burning money questions, check out Mic's credit, savings, career, investing and health care hubs for more information — that pays off.