Stockholm truck attack: Authorities find vehicle's suspected driver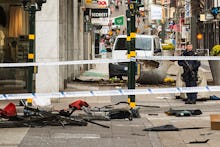 On Saturday, Swedish police arrested a 39-year-old Uzbek man in connection with Friday's vehicle attack, in which a hijacked beer truck drove into a Swedish department store, killing four people and injuring at least 15 others, the New York Times reports. 
"We have one person in custody, and we think he is the driver of the truck," Lars Bystrom, a spokesman for Swedish police, told the Times. Police detained the man in a Stockholm suburb on Friday and arrested him for the terror attack. 
In the hours since the attack, six of those injured had been released from Karolinska Hospital in Stockholm, while the rest, including one child, remain hospitalized. 
People placed flowers outside the department store on Saturday in memory of the victims. 
The truck involved in the attack reportedly belonged to Swedish beer company Spendrups, BBC reported. The truck had been carjacked earlier on Friday before the attack, which happened just before 3 p.m local time.
The truck crashed into a store window of Ahlens, a Swedish department store chain, on Drottninggatan, a major Stockholm street. Swedish government quickly labeled the incident an act of terror. 
"Sweden has been attacked," Swedish Prime Minister Stefan Lofven said on Friday, according to the Associated Press. "This indicates that it is an act of terror."
In an address later on Friday, according to the Times, Lofven reassured Swedish citizens that terrorism wouldn't undermine Swedish democracy. 
"If it's a terrorist act, the aim is to undermine democracy, but such acts will never succeed in Sweden," he said. "Our message is clear: You will never, ever win."