Pride flags in this small Wisconsin town are being torn down, stolen, and burned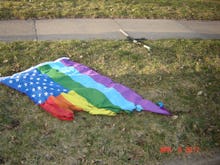 On Thursday morning, Jon and Amy Hester of Hudson, Wisconsin, discovered the rainbow flag outside their home was missing, local CBS affiliate WCCO reported. The flag, which included the stars of the American flag, usually flew outside their home as a welcoming symbol. 
"That was why we were hanging them in the first place, to really send that message loud and clear," Amy Hester told WCCO. 
In a small town of around 13,000, according to the Hudson website, one flag burglary would stand out. But the Hesters are not alone. Three other houses' rainbow flags were stolen. One of them was burned on the sidewalk, with the flag's charred remains left behind. 
Police say this is something that's been happening regularly in the area.  
"One family has been targeted twice, so that ramps it up for us a little bit," police chief Marty Jensen told WCCO. "We're a very open community here. We enjoy everyone who comes and who lives here, and we want everybody to feel safe and secure." 
Hudson police posted photos of the burned flags on its Facebook page. The post indicated the department is investigating the burnings as possible hate crimes. 
Mic reached out to local LGBTQ groups to ask if they knew of any similar incidents in the Wisconsin area. 
The pride flag has been in the news quite a bit lately. On Sunday, conservative radio host Bryan Fischer accused LGBTQ people of appropriating the pride flag from God, who invented it in the Bible. This happened the same weekend that Gilbert Baker, the man who designed the original pride flag, died at 65 years old.