Khan Sheikhoun, the Syrian town targeted in chemical attack, is hit once again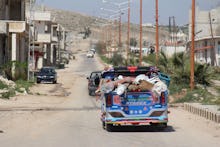 Khan Sheikhoun — the Syrian town targeted in a devastating chemical attack earlier this week — was hit again Friday and Saturday, activists there told CNN.
The strikes, which activists said left at least one woman dead and three others injured, came a day after the United States launched 59 missiles at a Syrian air base in response to the gas attack that killed upward of 80 people.
It was not certain Saturday morning who was behind the latest round of airstrikes on Khan Sheikhoun, according to CNN, but the rebel-held area has been the target of Syrian and Russian bombing campaigns. It was also unclear on Saturday morning where the strikes had been launched from.
The Syrian Observatory for Human Rights, a U.K. monitoring group, told Newsweek that the attack had been carried out either by Russia or by President Bashar Assad's regime. 
President Donald Trump launched the first U.S. direct attack against the Assad government early Friday local time.
"Assad choked out the lives of helpless men, women and children," Trump said. "Tonight I call on all civilized nations to join us in seeking to end the slaughter and bloodshed in Syria and also to end terrorism of all kinds and all types."
Syria and Russia each condemned the U.S. attack. Assad called the strike "reckless" act, while Putin called it a "violation of the norms of international law." Syria state media said the U.S. air raid killed nine civilians, including four children.
"[Russian President Vladimir Putin] views the U.S. strikes on Syria as aggression against a sovereign state in violation of the norms of international law and on a made-up pretext.," said Dmitry Peskov, a Kremlin spokesman, according to the Independent.
It's not clear what the next move will be for the U.S. 
NPR Pentagon correspondent Tom Bowman said Saturday that "there's no indication" the Trump administration will take further action against the Assad regime, describing the airstrike as a "narrowly focused mission."
But the U.S. missile attack is expected to loom over Secretary of State Rex Tillerson's visit to Moscow next week. Tillerson has said the Russians "really need to think carefully about their continued support of the Assad regime."
Khan Sheikhoun is located in the Idlib province in northwest Syria.