North Korea says Trump's airstrike against Syria is "unforgivable"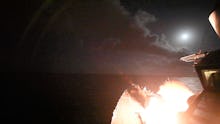 On Saturday, North Korea decried the U.S. attack against a Syrian airfield as an "unforgivable act of aggression," Reuters reported. 
Reuters learned of North Korea's condemnation through KCNA, the official news agency of the North Korean state. 
"The U.S. missile attack against Syria is a clear and unforgivable act of aggression against a sovereign state, and we strongly condemn this," an unnamed spokesperson for the North Korean foreign ministry said, according to Reuters.
North Korea considers Syria its ally. Reuters reported that KCNA said North Korean leader Kim Jong Un and Syrian leader Bashar Assad have exchanged "warm wishes and pledges of friendship and cooperation between the two countries." 
The U.S. strike on Syria, carried out with Tomahawk missiles, occurred as Trump met with Chinese President Xi Jinping to discuss North Korea's nuclear development. North Korea has reportedly been testing an arsenal of nuclear weapons, defying United Nations-imposed sanctions.
Thursday's airstrike was announced as a retaliation for a chemical gas attack in Khan Sheikhoun, which killed over 70 people. According to Reuters, Syria continues to deny it carried out the attack.