Donald Trump reportedly planning a shift to the center as he tries to reset his presidency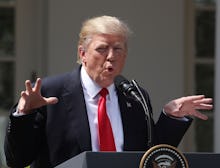 President Donald Trump — backed by advisers Ivanka Trump and Jared Kushner, his daughter and son-in-law — is reportedly planning a centrist push in an attempt to recover from a rocky start to his presidency.
White House Chief of Staff Reince Priebus is "with the program," a senior White House official told Axios, but it isn't clear if chief strategist Steve Bannon is.
The shift from Bannon's slash-and-burn approach to a more "competence- and results-driven" one comes as the top Trump aide and former Breitbart head grows increasingly isolated within the administration.
Bannon reportedly threatened to quit the administration after he was demoted from the National Security Council this week, and has been engaged in a high-profile feud with Kushner, whose role in the White House has expanded in recent weeks. 
Kushner has apparently taken issue with Bannon's stated desire to "deconstruct" the government, while Bannon has slurred Kushner as a "globalist" and a "cuck."
Conservatives picked up the feud on Twitter, using the competing hashtags #FireKushner and #FireBannon in a proxy battle for the soul of the Trump administration. For its part, the administration has publicly denied that a shakeup is in the works. On Friday, the White House released a statement saying "The only thing we are shaking up is the way Washington operates as we push the president's aggressive agenda forward."
Bannon — who was once dubbed "President Bannon" for the amount of power he wielded in the White House — has suffered dismal poll numbers in the wake of the humiliating failures of the Trump's Muslim bans and the American Health Care Act, and will be forced out of the administration if he doesn't adopt a more cooperative approach, Axios reports. 
Meanwhile, Trump enjoyed rare bipartisan praise — and cable news fawning — after ordering a missile attack on a Syrian air base in response to a deadly chemical attack by the Bashar al-Assad regime this week. 
"I think Donald Trump became president of the United States last night," CNN's Fareed Zakaria said Friday, the day after the air strikes. 
In a Facebook post Friday, Dan Rather criticized the media response to Trump's Syria strike, writing that the role of the press is to "ask hard questions" and to regard the administration with the "healthy skepticism" it deserves.
"The number of members of the press who have lauded the actions last night as 'presidential' is concerning," Rather wrote. "War must never be considered a public relations operation. It is not a way for an administration to gain a narrative."
Trump was also praised as "presidential" after giving his first address to Congress in February; that speech was a stylistic shift from a typical Trump address, but the substantively the same.