New Mexico becomes 7th state to ban conversion therapy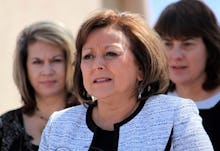 The state of New Mexico has become the seventh state to impose a ban on conversion therapy, the practice of attempting to force LGBTQ people into changing their sexual orientation, with GOP Gov. Susana Martinez signing into law a bill banning its use on minors.
The new "prohibition will apply to licensed physicians, nurses, psychologists and other health practitioners who apply conversion therapy to people under 18," the Associated Press reported. The law also sets up a system of penalties for violations under state licensing boards for those professions.
LGBTQ advocates claim the practice is tantamount to torture. The American Psychological Association has found conversion therapy has "negative side effects, [including] loss of sexual feeling, depression, suicidality and anxiety," while it rarely successfully results in the stated intent.
The APA and 12 other medical and counseling groups released a statement opposing conversion therapy in 2008, writing "the idea that homosexuality is a mental disorder or that the emergence of same-sex attraction and orientation among some adolescents is in any way abnormal or mentally unhealthy has no support among any mainstream health and mental health professional organizations."
"As a survivor of conversion therapy that happened right here in my home state of New Mexico, it's a very special day to see this barbaric and dangerous practice banned in the place that I grew up and call home," Equality New Mexico Executive Director Amber Royster said in a statement on the Human Rights Campaign's website. "My hope is that parents and families everywhere will think twice before seeking to change their LGBTQ child or loved one, and now we have the legal mechanism to ensure it doesn't happen at the hands of licensed practitioners in New Mexico."