Conservative group celebrates Gorsuch victory: "One vote short of restoring true marriage"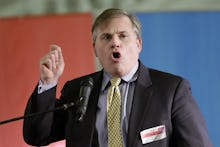 With just one more conservative judge on the Supreme Court, marriage equality could go the way of the dodo. 
At least, that's what Brian Brown, president of the National Organization for Marriage, hopes. 
In a statement on the organization's website, Brown praised Neil Gorsuch, who Congress officially confirmed to the Supreme Court Friday. Brown also looked to the future and thought about what may happen if one more right-leaning judge makes their way onto the bench. 
"We are likely only one vote short of reinstating marriage in our nation, with rumors flying that another court vacancy could occur soon with the retirement of one of the justices who voted to redefine marriage!" Brown wrote. Brown did not specify which justice is rumored to be leaving. 
Brown said he hopes that a Gorsuch-inclusive court will eventually reverse Obergefell v. Hodges, the landmark Supreme Court case that legalized marriage equality throughout the United States. 
"Justice Gorsuch shares Justice Scalia's judicial philosophy and we are confident he will rule to overturn the illegitimate marriage decision," Brown wrote. Scalia sided with the four justices who would not have expanded marriage equality. 
President Donald Trump has not said he wants to overrule Obergefell v. Hodges, but he said that wants to appoint Supreme Court justices that would reverse some of the gains LGBTQ people made during the Obama era. 
"It [same-sex marriage] has been ruled up," Trump said in a Fox News interview. "It has been there. If I'm a, you know, if I'm elected, I would be very strong on putting certain judges on the bench that I think maybe could change things."