'Overwatch' Omnic Crisis Skins: Xbox store leaks new event skins for several characters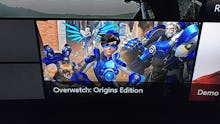 It appears that the Xbox store has leaked some new Overwatch skins ahead of the official reveal of the Omnic crisis-themed event — this time around, it looks like Mercy, Torbjörn, Tracer and Reinhardt are amongst those getting fresh looks.
New Overwatch skins leaked through the Xbox store
The image, posted to /r/Overwatch by AsranStark, shows new skins that resemble the outfits worn by several characters in the most recent Overwatch comic, "Uprising." It appears this image is no longer showing up on the Xbox store and was likely posted in error.
This similarity between the newest comic and the event itself was expected, but there's still no confirmation that Genji's "Blackwatch" outfit will be a part of this event just yet — though, fans certainly hope that will be the case. And, though the leaked image doesn't show it, it's all but confirmed Widowmaker will be getting a new skin through this event, according to a recent interview with Overwatch director Jeff Kaplan.
Blizzard will reveal more about this new event on April 11. We'll update you as more information becomes available.
More Overwatch news and updates
For more on Overwatch, check out the rest of what Mic has to offer. Here is a a look at a very funny but naughty meme on the Overwatch subreddit, an interview with the creator of an awesome new Overwatch zine, a full explanation of the different types of health in Overwatch, our definitive ranking of every Overwatch hero, a roundup of awesome gender-bent Overwatch cosplay and a giant Overwatch FAQ for beginners.