Stephen Colbert turned Putin into a drag clown after Russian law banning the image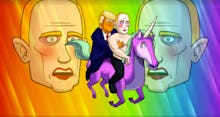 After news broke that the Russian government banned images of Vladimir Putin painted up as a "gay clown," Stephen Colbert used his platform on The Late Show to do in America what has been deemed illegal in Russia. 
A short animated segment on The Late Show depicted a cartoon version of the Russian president sporting Daisy Duke's, covering RuPaul's famous single, "Supermodel (You Better Work)," and his nipples swishing from side to side. 
He also rides a rainbow unicorn with President Donald Trump. 
According to the New York Times, banning images of Putin in gay clown drag was part of a larger order banning certain restricted materials. The clown drag was banned for hinting to "an alleged nonstandard sexual orientation of the Russian president." 
Putin has a well-curated image of hypermasculinity. In 2015, he released a calendar featuring him doing typical man things, like fishing without his shirt on and going to the gym. 
One professor told the Times that this ban is a way of making sure Putin controls his image. 
"There are a lot of ways you could visually attack him, but something that goes after his masculinity, anything that challenges his image as a hetero-normative male, in particular, will offend," Randall Law, a professor of history at Birmingham-Southern University, said. "This is a particularly sensitive point for Putin himself and for anybody in charge of policing his image."
Check out the cartoon below.