After Xi Jinping's visit with Donald Trump, Chinese state media criticized Syria strikes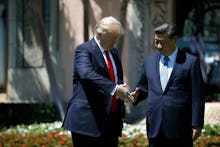 President Donald Trump proclaimed the success of his summit with China on Saturday, tweeting, "It was a great honor to have President Xi Jinping and Madame Peng Liyuan of China as our guests in the United States. Tremendous goodwill and friendship was formed, but only time will tell on trade."
But as soon as President Xi left the country, Chinese state-run media outlets began to aggressively denounce Trump's recent missile attack on a Syrian airfield near Homs, the New York Times reported.
Xinhua, the Chinese state news agency, accused Trump of launching the attack both because of his domestic political weakness and as a way to distract from widespread accusations he is a pawn of the Russian government, which is allied with Syrian leader Bashar al-Assad. Chinese analysts also concluded the attack on Syria, launched in response to the al-Assad government's launch of a chemical attack on civilians which killed at least 75, was a signal to Xi the administration was prepared to order similar attacks on North Korea and its nuclear program.
"It has been a typical tactic of the U.S. to send a strong political message by attacking other countries using advanced warplanes and cruise missiles," Xinhua wrote in reference to prior U.S. strikes in Libya and Sudan, the Times wrote.
While Xi "expressed understanding" of the attack, "because it was punishment for a chemical attack that had killed children," the Times reported the Chinese analysts were mostly "scornful."
However, according to CNN, Syria was likely a secondary issue of concern for the Chinese delegation, which hoped for the meeting to go well following Trump's aggressive rhetoric on U.S.-Chinese trade relations.
Chinese Foreign Ministry spokesperson Hua Chunying had previously warned, "We hope all sides will stay calm and exercise restraint to prevent the escalation of tension."
Trump's National Security Council has reportedly provided the president with options for more direct intervention in North Korea, which has seen deteriorating relations with all of its regional neighbors including China as well as the U.S. amid continuing ballistic missile tests. Secretary of State Rex Tillerson recently said the U.S. has "spoken enough" after the latest such test, and according to NBC, other options may include deploying nukes to South Korea or assassinating North Korean dictator Kim Jong-un.