Equinox Fitness Club shooting leaves one dead, two injured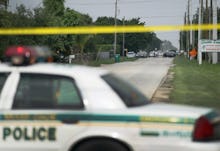 A gunman opened fire in an Equinox Fitness Club in the Shops at Merrick Park in Coral Gables, a city south of Miami resulting in one death and two injuries, the Miami Herald reported.
The person who died in the shooting at 1:00 p.m. Saturday is believed to be the gunman. The wounded "included the general manager, who is listed on the fitness center's website as Jeanine Ackerman and a trainer," the Herald added.
Witnesses said the shooting appeared to be a workplace dispute rather than an attempt to kill or injure as many people as possible.
"I had just left Equinox," gym member Shed Boren told the paper. "I heard from my trainer that it was a trainer that had been let go. The general manager and one of the trainers were shot."
Panic in the gym and at nearby shops sent patrons running for cover and hiding under tables, according to Local 10 News. A helicopter extracted the two wounded.
"The scene is secure and no one is in danger at this time," Miami-Dade Police Department Detective Alvaro Zabaleta told media.