Every 2.8 days, Trump visits a Trump-owned property. Every 5.6 days, he plays golf.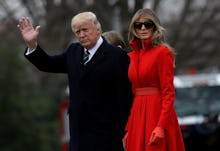 There's no place like home — unless it's a resort you own. 
According to a new analysis in the Washington Post, President Donald Trump has spent 28 days at a Trump-owned property, whether it be his hotel or the "Winter White House" Mar-a-Lago resort, since taking office on January 20. Given that his presidency started less than 3 months ago, that averages out to Trump visiting one of his properties every 2.8 days. 
Percentage-wise, Trump has visited a property that generates him money on 35.9% of the days he's been POTUS. 
Trump doesn't play golf as much as he visits his own properties, but he does play more than former President Barack Obama. According to the Post's analysis, Trump hits the links every 5.6 days, meaning he's golfed on 17.9% of his days as president. Comparatively, Obama golfed every 8.8 days.  
Among the many things Trump has rambled about on Twitter over the years, he often criticized the former president for his golfing expeditions. 
Trump's numerous trips to Mar-a-Lago are no small expense to American taxpayers. Each trip costs upwards of $3 million.  
According to the Post's analysis, if Trump continues at this rate, he will have spent 524 days visiting properties he owns by the time Jan. 20, 2021 comes around.