The Education Department is paying a ton of money on security for Betsy DeVos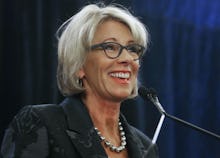 Education Secretary Betsy DeVos is receiving unusual security protection at a big cost to her agency, the Washington Post reported Friday.
DeVos — the controversial school voucher advocate and wealthy Republican donor — is costing her department $1 million per month to be protected by federal marshals, according to the Post. 
The Department of Education will reimburse the U.S. Marshals $7.78 million for protecting DeVos from mid-February to September, and the marshals have agreed continue to protect the secretary for the next four years.
The last time a Cabinet member was protected by marshals was in 2009 for a position no longer part of the Cabinet: the director of the Office of National Drug Control Policy.
No other Trump Cabinet members are receiving protection from the U.S. Marshals, who typically provide security for federal judges, transport prisoners, apprehend fugitives and protect witnesses, according to the Post. 
Members of the in-house security team that typically provide protection for education secretaries remain on the payroll but apparently are not guarding DeVos and have not been assigned other duties.
The cost of protection from the marshals is additional to the cost of DeVos' in-house security team.
DeVos began receiving protection from the Marshals Service in February, after outrage over her confirmation led to an incident in which protesters blocked DeVos from entering a public school in Washington, D.C.
The Post's report comes weeks after the Trump administration proposed devastating budget cuts to the Department of Education.