Egypt bombings: Blasts targeting 2 Coptic churches kill dozens on Palm Sunday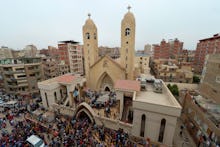 Dozens are dead and even more are injured in Egypt after bombs targeting two Coptic Christian churches exploded during Palm Sunday worship, CNN reported. 
One bomb went off in a church in the Egyptian city of Tanta, and the other blast occurred outside a church in Alexandria. ISIS has claimed responsibility for the attacks.
The explosive device in the attack at St. George's Coptic church in Tanta was detonated in the main prayer hall, where it was hidden underneath a seat. 
The Alexandria explosion was executed by a suicide bomber on the street outside Saint Mark's Coptic Orthodox Cathedral.
At least 11 people were killed and 35 others injured in the Alexandria explosion, according to state news sources cited by CNN, while the Tanta attack claimed 25 lives and injured 60 other people.
ISIS claimed credit for the bombings on Sunday, reporting through the terror group's affiliated Amaq news agency that a "a security detachment" of the Islamic State was responsible for both the Alexandria and Tanta attacks.
Egyptian President Abdel Fattah el-Sisi issued a statement following the attacks, CNN reported, noting the bombings "targets both the Copts and Muslims of the homeland."
"The attack will not undermine the resolve and true will of the Egyptian people to counter the forces of evil, but will only harden their determination to move forward on their trajectory to realize security, stability and comprehensive development," the statement continued, as quoted by CNN.
Copts — who make up approximately 10% of Egypt's population — have been targeted and persecuted in Egypt since the 2011 fall of Hosni Mubarak's regime, CNN noted. A December attack at a Coptic church in Cairo killed 25. 
Pope Francis expressed his grief for those targeted in the attacks in a statement, which comes ahead of a trip to Cairo later this month.
"To my dear brother his Holiness Pope Tawadros II, to the Coptic church and to all of the dear country Egypt, I express my deep condolences, I prayed for the dead and the wounded, I am close to the families and to the entire community." the Pope said, as quoted by CNN. "God convert the hearts of the people who spread terror, violence and dead, and also the heart of who produces and traffic weapons."
April 9, 2017, 12:07 p.m.: This story has been updated.