Stockholm truck attack: Authorities arrest second suspect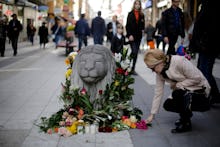 Swedish authorities have arrested a second suspect in Friday's attack on a Stockholm department store, which left four dead and at least 15 injured. 
A spokesperson with the prosecutor's office confirmed to the Associated Press Sunday that "a person suspected of terrorist offenses by murder has been arrested" in connection to the Friday afternoon attack, in which a hijacked beer truck careened into the Ahlen department store.
Authorities have reportedly questioned over 500 people and, in addition to the two arrests, have detained four other people in connection with the incident. They made their first arrest — a 39-year-old Uzbek man — on Saturday. A spokesperson for regional police told the New York Times that they believed the man to be the truck driver. 
Anders Thornberg, who heads the Swedish Security Service, told the Times the suspect arrested Saturday had appeared in their "files" before. He was reportedly seeking asylum in Sweden, although authorities were looking to deport him. 
According to the AP, a spokesperson for the national police said the suspect is known to have "been sympathetic to extremist organizations."
The Guardian reported that two of the people killed were Swedish, one was Belgian and one was British. 
According to the Washington Post, Friday's attack marks the "first major apparent terrorist strike in Stockholm."