North Korea: US deploys warships toward Korean Peninsula in wake of missile tests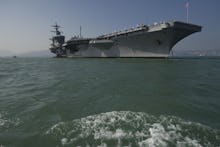 Tensions with North Korea continued to intensify on Sunday, as the U.S. military ordered a Navy strike group to move toward the Korean Peninsula.
The warships' deployment, the BBC reported, is being described by U.S. Pacific Command as a way to remain prepared in the region.
Included in the strike group are the aircraft carrier USS Carl Vinson, a guided-missile cruiser and two guided-missile destroyers, which have the power to intercept ballistic missiles and conduct powerful strikes of their own, the BBC noted.
The move comes in the wake of North Korea's wave of recent ballistic missile tests, including a missile fired on Wednesday ahead of President Donald Trump's meeting with Chinese President Xi Jinping. Satellite footage has also suggested North Korea may be preparing for a sixth nuclear test, the Washington Post reported.
North Korea used Trump's recent attack on Syria to justify the country's continued weaponry progress, describing the U.S. airstrike on Syria as "absolutely unpardonable," the Associated Press reported.
"Some forces are loud-mouthed that the recent U.S. military attack on Syria is an action of warning us but we are not frightened by it," a North Korean foreign ministry official quoted by the state-run Korean Central News Agency said, according to the AP.
"We will bolster up in every way our capability for self-defense to cope with the U.S. evermore reckless moves for a war and defend ourselves with our own force," the report continued.
In an interview Sunday with Face the Nation on CBS, Secretary of State Rex Tillerson commented on Trump's recent discussions with Jinping about the North Korean controversy. China has long been an ally of North Korea, though North Korea's state-run news agency recently criticized China's "mean behavior" after it enforced sanctions on coal imports from North Korea.
"I think it was a very useful and productive exchange," Tillerson said on Face the Nation about the leaders' discussions on North Korea. "President Xi clearly understands ... that the situation has intensified and has reached a certain level of threat that action has to be taken."
The Trump administration is "hopeful" they can work with the Chinese to "change the conditions in the minds" of North Korean leadership, Tillerson said, at which point "perhaps discussions" between China and North Korea "may be useful." 
During a visit to South Korea in March, Tillerson said "all of the options are on the table" in terms of the United States' response to a North Korean threat.
"I think there's a shared view and no disagreement as to how dangerous the situation has become," Tillerson continued on Face the Nation. "And I think even China is beginning to recognize that this presents a threat to China's interests as well."