K.T. McFarland reportedly off the National Security Council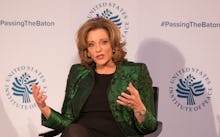 The National Security Council is saying goodbye to another member. According to a Bloomberg report, K.T. McFarland will relinquish her role as deputy national security adviser and transition to Singapore ambassador. 
Bloomberg's intel comes from "a person familiar with White House personnel moves." The outlet also broke the news Wednesday that President Donald Trump's chief strategist, Steve Bannon, had been removed from the council. 
The moves are reportedly part of restructuring by Trump's second national security adviser, H.R. McMaster. 
McFarland, formerly a Fox News commentator, quelled rumors that she would be leaving her post when Michael Flynn stepped down as national security adviser in February, after it emerged that he had been less than forthcoming about his relationship with Russia. The New York Times reported that McFarland would likely depart with Flynn, but she insisted that wasn't the case. 
"I just met with the president and he asked that I stay on," she told the Hill at the time. "I'm thrilled to do so."
According to Talking Points Memo, though, Trump's first choice for Flynn's successor, retired Vice Admiral Robert Harward, was less than thrilled with that decision. He allegedly declined the position when the administration wouldn't let McFarland go. 
Bannon, meanwhile, reportedly functioned as "a check on Mike Flynn" during his NSC tenure, meaning he became obsolete with Flynn's resignation. 
When McMaster stepped into his role in February, he began mulling changes to the council, according to the Times. 
Ex-Goldman Sachs executive Dina Powell will stay onboard as deputy national security adviser and an additional person will be hired to fill McFarland's vacancy, according to Bloomberg.