NASA astronaut Peggy Whitson becomes first woman to command ISS twice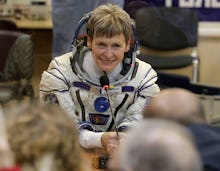 NASA astronaut Peggy Whitson achieved a new milestone at the International Space Station on Sunday, when she became the first woman to command the ISS twice.
Whitson is replacing astronaut Robert Shane Kimbrough, who will depart the space station Monday.
"Up here we don't wear shoes, but Shane is leaving me some pretty big socks to fill," Whitson said during a live broadcast as she assumed her new position. 
Whitson became the first female space-station commander in 2008. In the years since, astronaut Sunita Williams has been the only other woman to command the ISS.
Sunday's milestone is the latest in a string of records broken by Whitson. In addition to her commanding achievements, Whitson holds the record for cumulative spacewalking time of any female astronaut. She also earned the distinction of being the oldest woman to ever go to space when she arrived at the ISS in November at the age of 56.
As if that weren't enough, Whitson is just a couple weeks away from yet another feat. On April 24, she will pass astronaut Jeff Williams to break the record for cumulative days in space by a U.S. astronaut, currently set at 534 days. NASA announced on Wednesday that Whitson's time in space was extended an additional three months through September, which will make it even harder for another astronaut to come close to her record-breaking stay.
"I love being up here," Whitson said in a statement about her extension. "Living and working aboard the space station is where I feel like I make the greatest contribution, so I am constantly trying to squeeze every drop out of my time here. Having three more months to squeeze is just what I would wish for."