Syria: Sens. McCain and Graham are thrilled Trump struck Syria, want a regime change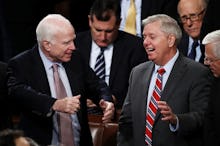 President Donald Trump's missile strike on a Syrian military air field allegedly involved in a chemical attack on civilians on Thursday has earned him praise from two of his biggest critics in the Republican Party: the eternally hawkish Sens. Lindsey Graham and John McCain.
Both praised Trump for the strike on Sunday, although they qualified their support as dependent on the president not treating the attack as a one-off and getting the U.S. more deeply involved in military efforts to end Syria's raging civil war.
"I've never been more encouraged by the Trump administration than I am today," Graham told host Chuck Todd on NBC's Meet the Press. He added that U.N. Ambassador Nikki Haley "just said on your program, you'll never end the war with [Syrian leader Bashar al-Assad] in power. So that means regime change is now the policy of the Trump administration. That's at least what I've heard."
Graham, who has long backed an aggressive U.S. military intervention in Syria, saw Trump's strike as a sign the administration may be open to overthrowing Assad — even as Haley and Trump's Secretary of State Rex Tillerson were sending mixed signals about the White House's view of the future of his regime.
"So you need more American troops to accelerate the demise of ISIL," Graham continued. "Five or six thousand. Attract more regional fighters to destroy ISIL, you need a safe haven quickly ... then you train the opposition to go after Assad."
Graham even seemed to praise Trump for acting unpredictably. 
"Here's what I think Assad is telling Trump by flying from this base: 'F you,'" Graham said. "And I think he's making a serious mistake. If you're an adversary of the United States, and you don't worry about what Trump may do on any given day, then you're crazy."
On CBS' Face the Nation, the similarly hawkish McCain called the strikes an "excellent first step, and it was a reversal of the last eight years, and I think it was important. But it's now vitally important we develop a strategy."
McCain argued that stabilizing the country means removing Assad by force, and simply focusing on his government's use of chemical weapons was not enough.
"That obviously means that there has to be a cessation of these war crimes," McCain said.
"We may stop the chemical weapons, but we've also got to stop the other, indiscriminate, inhumane war crimes that being committed as well," he added.
However, McCain placed some of the blame for the chemical attack on the White House as well, saying Trump's early indecision on Syria "probably" emboldened Assad.
If Trump takes McCain and Graham's advice, it would be a major turnaround from his campaign and early days of his presidency. In January, Trump responded to the two senators' criticism of his de facto Muslim ban by accusing them of "always looking to start World War III."
Though Trump ran on an isolationist platform, as the Atlantic's McKay Coppins noted, his rhetoric on foreign relations was always belligerent, perhaps indicating a switch to a big stick-centric strategy was always inevitable.