Photo of young woman smiling down at far-right protester in England goes viral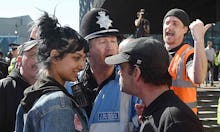 As citizens around the world face the threat of far-right extremism, one photo from a demonstration in England has captured one woman's defiance in the face of those who seek to oppress her.
The now-viral photo shows a young woman standing up against a protestor from the far-right English Defence League on Saturday during a rally in Birmingham, England. 
"Who looks like they have power here?" Birmingham Labour MP Jess Phillips, who first shared the photo, asked in a tweet, which has since been retweeted more than 6,000 times.
The English Defence League is a far-right group in England that specifically targets the United Kingdom's Muslim community. According to the Telegraph, the group organized Saturday's protest in response to a "continued increase in Islamic terrorism" linked to Birmingham, which the EDL claimed was "frequented" by the suspect in March 22's terror attack in Westminster.
"The English Defence League is not welcome in Birmingham. They will never be welcome in Birmingham," read a statement issued by the Birmingham city council, as quoted in the Telegraph. "There is no place in our city for messages of hate. There is no place for intolerance and there is no place for violence or extremism of any kind."
Saturday's rally attracted about 100 EDL protesters, the Guardian reported. Meanwhile, three times as many attendees showed up at a local mosque hosting a "best of British" tea party in response to the protest. 
"This is how we protest — by celebrating the quiet miracle of a normal life and the things that we love most about our city and our country," Labour MP Liam Byrne said during the tea party. "Getting together as friends, getting together as neighbors, breaking a bit of Victoria sponge and having a cup of tea. That is a potent, powerful message that we will send to those who seek to divide us."